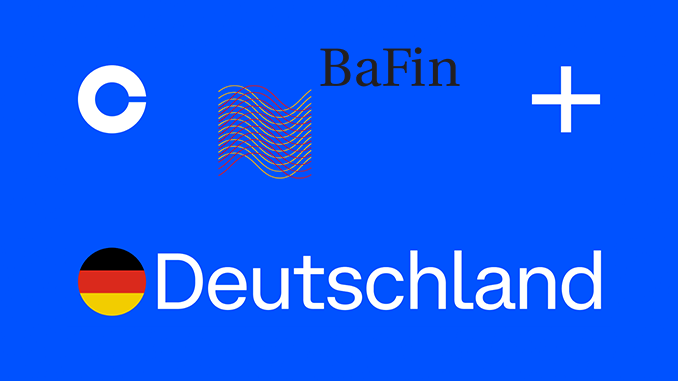 U.S. crypto exchange Coinbase has become the first company of its kind to complete the process of being officially licensed in Germany by the German Federal Financial Supervisory Authority (BaFin).
The German Federal Financial Supervisory Authority (BaFin) is a typically German agency, and judging by that, its press release is unusual: with "first permission" in the title, it immediately puts an exclamation point. It's all about Coinbase Germany GmbH and the crypto custody business, BaFin additionally writes. What is behind it?
In March 2020, BaFin had clearly defined the requirements that crypto exchanges must meet if they want to legally conduct business in Germany. This included proactively initiating a licensing process. Coinbase and also its competitor Binance established branches in Germany for this purpose. So Coinbase has now become the first to succeed in implementing BaFin's conditions. In doing so, BaFin has a special eye on how Coinbase and other applicants handle customer accounts and assets, as the term "crypto custody business" explains.
However, BaFin also emphasizes: it now only supervises Coinbase Germany in the direction of serious handling of customer funds in cryptocurrencies. A deposit guarantee is not associated with it and certainly not a supervision of cryptocurrencies. Coinbase, meanwhile, is pleased about BaFin's decision in a blog post. It said it would now localize its German business more strongly in the coming weeks and expand its range of services. The Coinbase team in Germany will also be expanded.
Coinbase on course for growth in Germany
Coinbase emphasizes that Germany is a pioneer in the EU with clear legal framework regulations for crypto platforms. This locational advantage is also attracting an expanding crypto scene, it adds. Which products and services Coinbase plans to try out locally in Germany in the future has not yet been revealed. An exciting business area for Coinbase could be to introduce institutional investors to Bitcoin and Co. in Germany. In the U.S., this division already accounts for about 50 percent of Coinbase's revenue, as revealed before Coinbase's IPO in April 2021. Coinbase's stock rose nearly 10 percent after the BaFin decision became known.
Conclusion: waiting for further approvals of crypto exchanges by BaFin.
According to BaFin, it has formed a team that specifically takes care of the crypto industry. For now, Coinbase has the advantage of going on the hunt for customers with its legal approval as an argument. However, platforms such as Binance or eToro are already well represented in Germany with a broad customer base. There, they will now hope that BaFin will soon signal "green light". Although there was an application deadline for crypto exchanges already operating in Germany, BaFin does not have a specified time frame for the decision on approval.
---