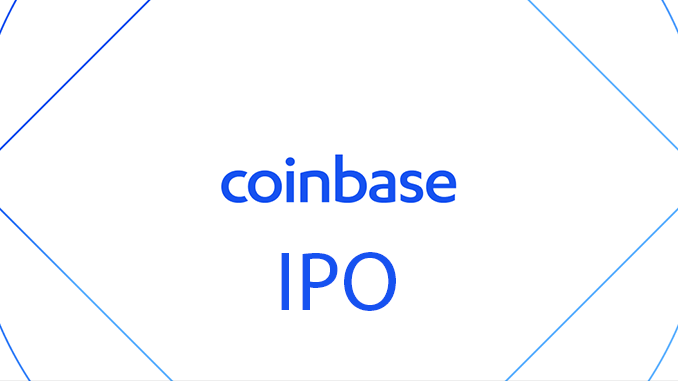 The crypto industry may be looking at the first major IPO of a company. This is because the crypto exchange Coinbase has started the formal admission process for an IPO.
Matching the highs in Bitcoin (BTC), crypto exchange Coinbase filed to get itself ready for an IPO. As a first step toward doing so, Coinbase has filed Form S-1 with the U.S. Securities and Exchange Commission (SEC), according to a company blog post. That should mark Coinbase's IPO in 2021. In its last private funding round in 2018, Coinbase was valued at around $8 billion. The application process with the SEC is confidential. But tens of billions in U.S. dollars as an enterprise value should be realistic if Coinbase issues shares.
Background on Coinbase and IPO
Headquartered in San Francisco, Coinbase says it now has more than 35 million customers in more than 100 countries. More than 1,000 employees organize the business, and this week daily sales close to the $3 billion mark were the norm. Coinbase was launched in 2012 and has since systematically expanded from its US home market towards the EU and Germany.
The crypto industry has been anticipating a spectacular IPO for quite some time. Ripple is considered a candidate, as is BlockFi, which specializes in crypto loans. But Coinbase seems to be taking the lead and has caught a favorable moment in terms of timing.
After all, with Bitcoin hitting new all-time highs, it is also becoming increasingly clear that institutional investors are getting into BTC on a large scale. MicroStrategy, for example, is implementing its million-dollar strategy in Bitcoin with the help of Coinbase. Exchange traders hope to share in the industry's success with shares of Coinbase. The reasoning: Growing revenues and rising crypto prices ultimately show up on the fee side, which is the business foundation for Coinbase.
In addition to day trading bitcoin and leading altcoins, Coinbase also has a credit card issuing division and one for analytics and crypto training. In the scene, people talk about the Coinbase effect when the platform lists new tokens and they experience positive price jumps due to the associated attention.
Conclusion: Coinbase is grown up enough for the stock market
In the end, it was only a matter of time before one of the major companies from the crypto industry set off in the direction of the stock exchange. Coinbase, as a pioneer with a solid base in the USA, should be able to count on broad interest. Even conservative investors have long since realized that the crypto industry is no longer a temporary phenomenon, but is seriously engaged in billion-dollar transactions, with the trend continuing to rise.
---
Best place to buy Bitcoin: