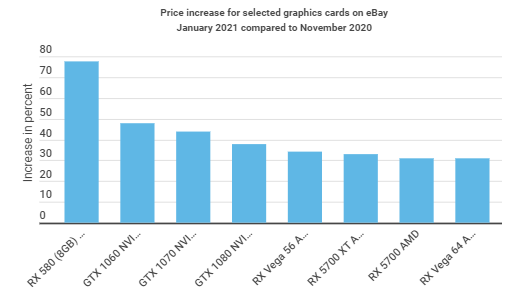 The bitcoin rally continues: the price of the digital currency has climbed by 7.2% in the last 7 days alone. This also has implications for those who are not invested in cryptocurrencies. In a new infographic, Block-Builders.de presents interesting facts and insights about the effects of the crypto-hype. 
Mining cryptocurrencies requires powerful graphics cards. The growing interest in bitcoin & co. has been pushing up the prices of such cards – and by that we mean substantially. Take for example AMD's RX 580 8GB graphics card, prices for which have risen by a whopping 77.6% since November 2020. A similar effect can also be seen in the prices for various NVIDIA graphics cards.
Meanwhile, the infographic illustrates the extent to which many Americans have been using stimulus cheques to buy cryptocurrencies in response to the pandemic. The number of deposits and purchases of certain currencies rose sharply last year immediately following the issuance of stimulus payments. Millions of Americans will receive cheques again in the coming days, and it appears likely that many will continue to invest in bitcoin and other cryptocurrencies.
Controversies Surrounding Cryptocurrencies
Another side effect has been the increased demand for energy: bitcoin infrastructure consumes 120 terawatt hours annually, according to data from a new survey from the University of Cambridge. This exceeds the entire electricity consumption of the United Arab Emirates. The question of whether this is justified by the currency's other benefits is a hotly disputed issue.
The rally is also putting a growing burden on police. According to the State Criminal Police Department of Lower Saxony, criminal actors are exploiting the highs in cryptocurrencies to defraud unsuspecting amateurs. Fake websites ostensibly allow investors to purchase bitcoin, but funds deposited are never paid out. Anyone wishing to really profit from the price gains should therefore make sure to use regulated and reputable crypto exchanges.
As shown in the infographic, highs in the prices of digital currencies are having an impact in a number of ways. One thing is clear: investors have recently been able to reap huge returns. Investments by celebrities such as Elon Musk continue to fuel the trend. Nevertheless, billion-dollar bitcoin purchases are nothing new. For instance in September 2019, an anonymous individual bought (or transferred) 94,505 bitcoins, all of which have remained in the same wallet ever since. The current value: over $5 billion US.