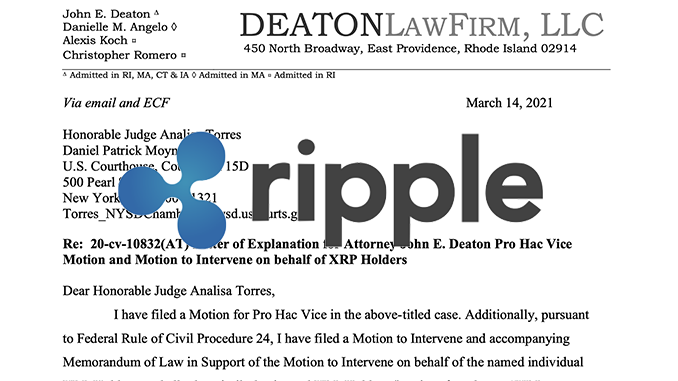 In the court case of the US Securities and Exchange Commission (SEC) against Ripple, more than 6,000 investors who hold XRP also want to make their voices heard. They fear that their interests will otherwise not be taken into account.
The U.S. Securities and Exchange Commission (SEC) is suing the crypto company Ripple for around 1.3 billion U.S. dollars in damages because of the sale of XRP. At the heart of the matter is the question of whether XRP should be classified as a security and whether the sales should therefore have been subject to approval. Now private investors are also getting involved in the proceedings, represented by investor and lawyer John Deaton. He writes to the court in New York that the investors might have other interests than Ripple and should therefore be admitted as parties to the proceedings. In a supplemental letter, Deaton asserts he is speaking on behalf of more than 6,000 concerned XRP holders.
An initial submission to the court by Deaton from January was denied. There, too, he urged that a legal distinction be made between investors who bought XRP directly from Ripple and investors who bought XRP on secondary markets such as crypto exchanges. According to Deaton, the SEC lawsuit announcement before Christmas had caused XRP's price to plummet, resulting in $15 billion in losses. In fact, the price of XRP fell from $0.76 to $0.18, but has since stabilized back around $0.50.
SEC vs. Ripple – dispute with symbolic character
Ripple did not comment on the interference of private investors in the ongoing XRP proceedings. In general, Ripple categorically rejects the SEC's accusations and refers to other cryptocurrencies such as Bitcoin (BTC) and Ethereum (ETH), which are allowed to be traded in the USA without approval. However, the conditions are different for Ripple, experts note. Institutional sales by XRP's issuer, Ripple, suggest it is more likely to function as a securities.
Whether investors will now be admitted to the lawsuit remains to be seen. Deaton demands as a precaution that from a possible compensation fund of Ripple also the price losses should be compensated. It is unclear for the time being whether Deaton also wants to hold the SEC itself liable. So far, the SEC and Ripple are negotiating in writing, and a preliminary hearing has not yet been scheduled. The indictment also focuses on Ripple CEO Brad Garlinghouse and co-founder Chris Larsen, who are said to have personally enriched themselves with millions when selling XRP.
Conclusion: Hanging game around XRP
All parties to the lawsuit are pushing for a speedy trial. XRP has been delisted from leading U.S. crypto exchanges, and Deaton argues that U.S. investors are currently holding a non-tradable and thus worthless asset with it. Ripple, in turn, must fear for its future with the potential billions in fines. In New York, the SEC and the judiciary have a reputation for cracking down on crypto companies to protect investors. However, proceedings often end in an out-of-court settlement – which Ripple is not aiming for for XRP according to information so far.
---
Best place to buy Bitcoin and Ripple XRP: