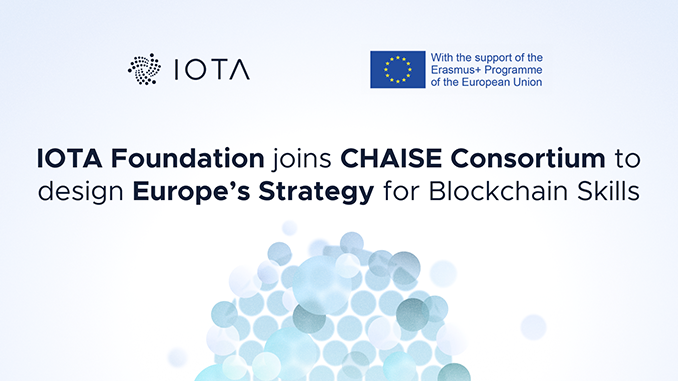 The IOTA Foundation is joining the CHAISE consortium, which is being formed and will be funded by the EU for four years. CHAISE aims to provide formal studies to become a blockchain specialist.
Blockchains and related distributed ledger solutions have long been finding their way into everyday life, a recent example being digital vaccination passports. According to the IOTA Foundation, however, the innovative industry lacks systematically trained experts. A group of "pioneers", who together with IOTA operate under the name CHAISE, is intended to provide a remedy. For example, Fujitsu, the Alliance for Verified Blockchain Applications INATBA and the University of Lyon are also participating in CHAISE. CHAISE wants to develop a study program that imparts technological knowledge around blockchains and distributed ledgers in five semesters and also trains leadership skills.
CHAISE has already received a funding commitment for the next four years from the EU, but is still expanding its online presence. For the IOTA Foundation, Holger Köther, responsible for partnerships, speaks of an important step in defending Europe's leading role in blockchains and distributed ledgers. Reference is also made to IOTA's expertise in Internet of Things (IoT) applications. It is not yet known what sums are available for CHAISE and what timetable the consortium has set itself.
IOTA and formal education – brief background.
CHAISE is not the first attempt by the IOTA Foundation to gain a foothold in the education sector. Already in spring 2019, they founded an IOTA Academy with partners, and IOTA is involved in various projects at universities such as Vienna and in Italy. Observers consider this strategy to be fundamentally sensible in order to establish IOTA as a standard. The idea is that if students already get to know IOTA in detail as an example of automated networking, they will also prefer IOTA to competitors later in their working lives.
Critics complain that IOTA does not represent a truly decentralized network until the upgrade Coordicide, which is hoped for at the end of 2021, and therefore does not fully fulfill the tasks required of a blockchain, such as manipulation security. There is agreement that there is a need for well-trained crypto industry professionals in the EU and certified study programs would mark progress.
Conclusion: IOTA on the rise?
The IOTA Foundation is known for a variety of collaborations in fields ranging from industry to education, not all projects produce concrete results either. Investors are watching in parallel to see if the internal technological renewal process towards IOTA 1.5 and IOTA 2.0 is working as promised. The completion of Chrysalis, aka IOTA 1.5, is expected to be a milestone in March.
---
Best place to buy Bitcoin and IOTA: