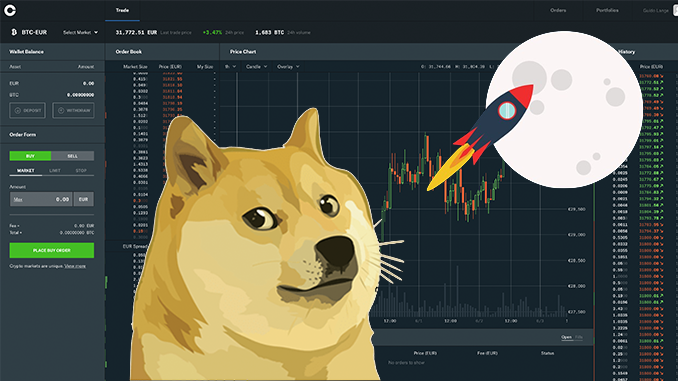 Dogecoin (DOGE) can also be traded on Coinbase Pro as of today, Thursday. When this was announced, the Coinbase effect kicked in and helped Dogecoin to a whopping plus in price.
In the end, things moved faster than expected in the relationship between U.S. crypto exchange Coinbase and Dogecoin (DOGE). Because when Coinbase announced in mid-May that it would soon list Dogecoin, there was still talk of late June or early July. Instead, according to Coinbase's blog post, DOGE trading is expected to start on Coinbase Pro this Thursday.
What is currently happening is called the Coinbase Effect in the crypto industry. When the leading crypto exchange in the U.S. relists a cryptocurrency, it almost always increases significantly in price. Before Coinbase's blog post appeared, Dogecoin was trading at $0.32. By Thursday morning, Dogecoin was already at $0.42, up nearly 30 percent.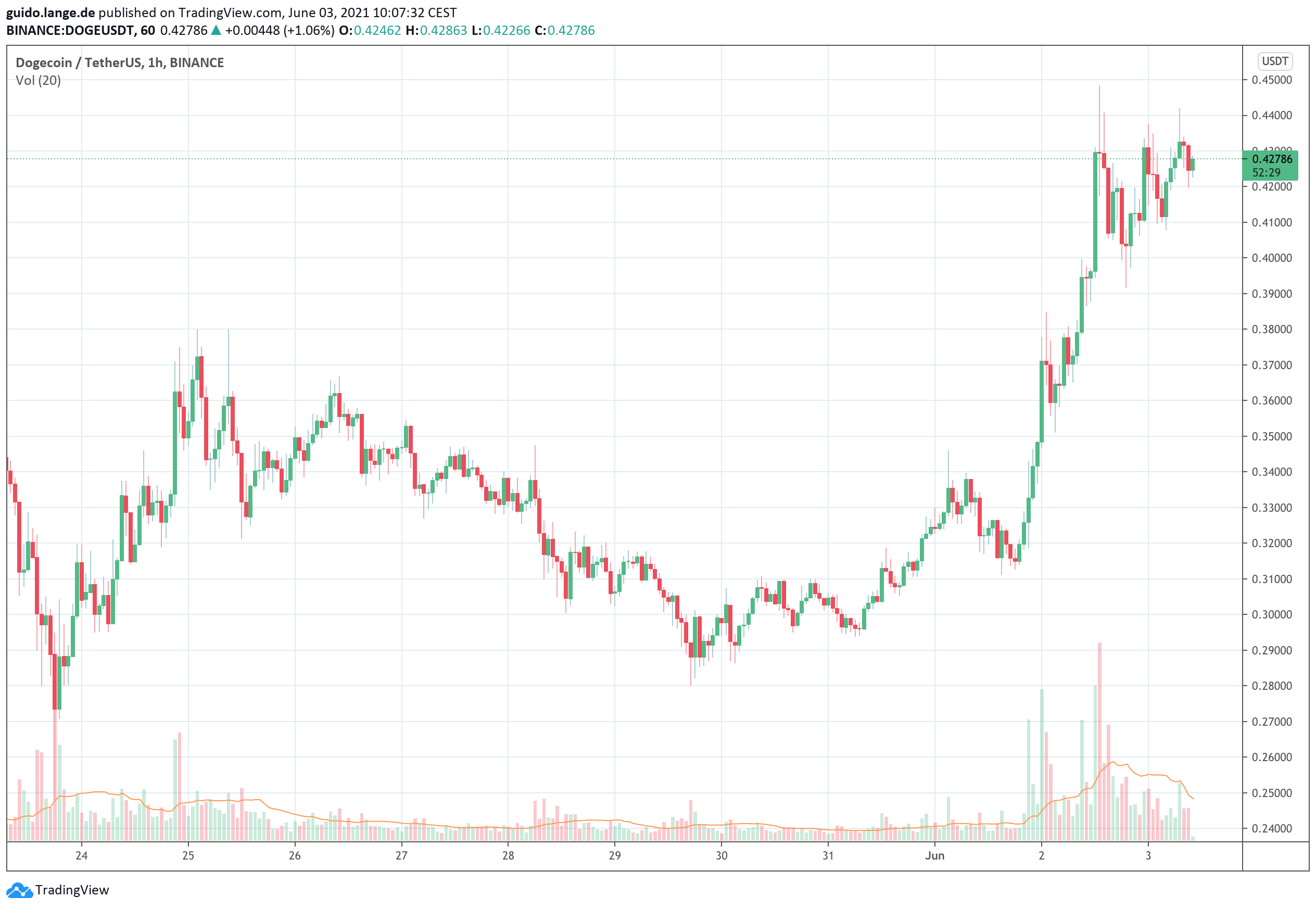 DOGE also received support once again from "Dogefather" Elon Musk. Tesla CEO Musk tweeted () self-deprecatingly for an audience of millions that he had to keep his passion for Dogecoin a secret in order to avoid a public court of shards.
Found this pic of me as a child pic.twitter.com/hUEKluRAdP

— Elon Musk (@elonmusk) June 2, 2021
This should also be read as an allusion to the dispute between Musk and Ethereum founder Vitalik Buterin. Buterin had in fact clearly and professionally contradicted Musk on the matter of Dogecoin.
Dogecoin at Coinbase Pro – DOGE with a tailwind
Coinbase Pro will initially form five trading pairs for Dogecoin, namely DOGE against US Dollar, Euro, British Pound, Bitcoin (BTC) and the stablecoin Tether (USDT). Trading is expected to start this evening, and DOGE can already be transferred to Coinbase and limit orders placed. The listed Coinbase will then bring Dogecoin closer to many millions of customers.
If you have a customer account with Coinbase, you can also use it to access Coinbase Pro. When considering an investment in Dogecoin, keep in mind: many experts view the hype surrounding DOGE with great skepticism. Dogecoin is not capped in its maximum amount and therefore brings natural inflation. Moreover, the places that accept DOGE as a means of payment can still be counted on one hand. Thus, Dogecoin lacks a convincing practical concept for use cases.
Conclusion: DOGE is barking up a storm again
Despite all the critics, Dogecoin has established itself among the top ten cryptocurrencies by market capitalization. For DOGE's debut on Coinbase Pro, the growing number of celebrities who have taken Dogecoin to their hearts will probably become active again. Also important: The listing on Coinbase Pro could very likely be followed by a listing on the basic version of Coinbase in the near future. In this environment, further price caprices for Dogecoin would not be a surprise.