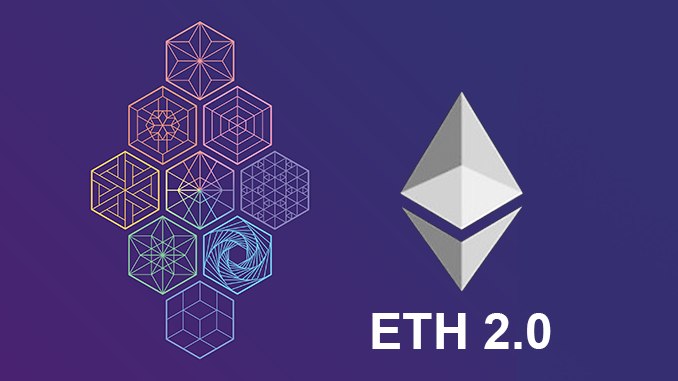 Ethereum (ETH) as second largest crypto currency worldwide is facing a major technological upheaval. With Ethereum 2.0, the protocol of the block chain is to be changed and thus experience a leap in performance. It starts with Ethereum 2.0 probably on 1 December 2020.
Ethereum 2.0 has been moving the crypto scene for years. Because the plan behind it is to technologically fundamentally reposition the second most important crypto currency Ethereum (ETH). Away from the slow and resource-hungry Proof-of-Work as protocol Ethereum 2.0 is to accomplish and to introduce instead Proof-of-Stake. Time and again, corrected schedules for Ethereum 2.0 were also the subject of heated public discussion and caused skepticism about when the idea would become reality. Now, the Ethereum Foundation's progress report will provide a concrete date of December 1, 2020.
Ethereum 2.0 starts with restrictions
It is important to know: Ethereum 2.0 in phase 0, which is the subject of the present project, does not yet replace the existing ecosystem. Rather, it will create a parallel block chain for Ethereum under the name Beacon, whose functionality for Smart Contracts and DApps is only rudimentary. The very large, preferably complete, migration to Ethereum 2.0, also known as Serenity, is still not planned until the end of 2021.
According to the Ethereum Foundation, at least 16,384 participants must be found for staking and, added together, provide ETH with more than 200 million US dollars in liquidity. If this is not achieved by December 1, the launch will be postponed by seven days. If you want to contribute to ETH, you should definitely use the ETH 2 Launchpad here and never send it to other addresses associated with Beacon. ETH on Ethereum 2.0 cannot be "turned back" to Ethereum 1.0, but are irrevocably stuck on the new standard.
Conclusion: Ethereum is waiting for a major upgrade
The markets rewarded the specific launch date for Ethereum 2.0 with a plus of just under 5 percent and ETH is currently quoted at just under 400 US dollars. For you, Beacon at Ethereum is still of little relevance in your daily business, because the DeFi division, which ETH is driving, will continue to be handled by Ethereum 1.0.
The situation is somewhat different for medium and long-term investors. Ultimately, Ethereum 2.0, which will be fully rolled out in 2021, will solve the problem of overloading the ETH block chain and the resulting high transaction fees. If this step is successful, Ethereum will demonstrate its future viability. On the other hand, ETH is threatened with a loss of trust if Beacon launches prematurely and shows security gaps or other problems. In any case, Ethereum 2.0 is a good example of how sometimes boring sounding technological topics can influence the price of crypto currencies.
---
Best place to buy Bitcoin and Ethereum: