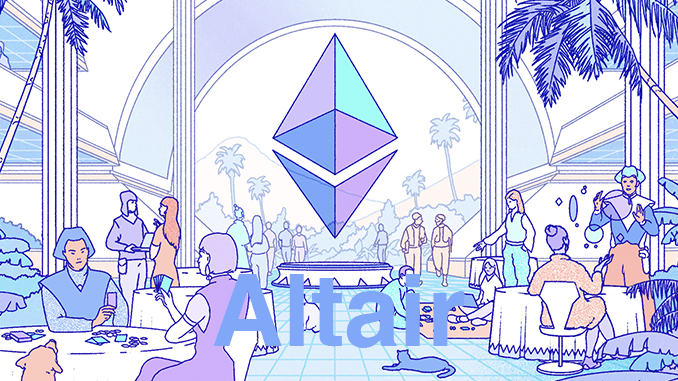 Ethereum has the launch of Upgrade Altair on the schedule for Oct. 27. This is in preparation for a planned 2022 Ethererum 2.0 on the mainnet.
Ethereum 2.0 is getting closer and, from a technological point of view, is being prepared by Upgrade Altair on Wednesday (October 27). That's because Altair will make Ethereum's public testnet Beacon Chain ready to merge with the current blockchain ETH1 through "The Merge" in 2022. With Ethereum 2.0, the world's second most important cryptocurrency is switching its protocol to proof-of-stake and will then bid farewell to the resource-intensive proof-of-work. This development was triggered with the launch of the Beacon Chain in December 2020. In order to test Ethereum 2.0 there under practical conditions, a good 8 million ETH have now been deposited in the Beacon Chain. They will only be released again after "The Merge".
What will change with the Altair upgrade on Ethereum?
Altair is important for you as an investor in terms of perspective, but you should not feel anything from this upgrade in everyday life. In terms of content, Altair tightens the rules for node operators in the beacon chain. According to Altair, if they do not operate their network points reliably, they will be subject to automated penalties in ETH2. This is also why Ethereum developers are explicitly calling for their nodes to be prepared for Altair now. According to public data, 63 percent of affected nodes have followed this call so far. Altair also brings the ability to keep so-called light nodes active on ETH2, which do not store the entire history of the blockchain and therefore get by with reduced hardware requirements. Altair will go live on Oct. 27 at 12:56 p.m. German time, according to the announcement.
As far as known so far, Altair will be the last upgrade before "The Merge". With Proof-of-Stake, Ethereum aims to become more energy friendly and significantly increase the performance of its network. We have summarized the significance of Ethereum 2.0 for you here. Important to know: "The Merge" does not yet directly introduce sharding, which, as a method in the Ethereum ecosystem, aims to provide much more throughput and then also low transaction fees than before through parallel blockchains. Overall, Altair is an important step forward, especially for developers.
Conclusion: Ethereum 2.0 moves within reach
Ethereum hit a new all-time high of $4,366 last week and is increasingly coming into the focus of institutional investors due to booming use cases in DeFi and NFTs. Ethereum 2.0 should ensure the future viability of this ecosystem. Therefore, it remains important when Ethereum will succeed in realizing "The Merge" and then the introduction of sharding in 2022.
---
Best place to buy Bitcoin and Ethereum: