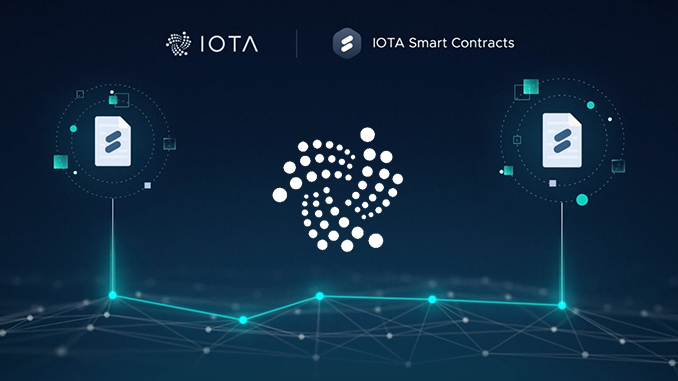 Last week, IOTA released Smart Contacts in a beta version on the testnet. Since then, a discussion has been raging about the real potential for IOTA with this functionality.
A few days ago, the IOTA Foundation euphorically celebrated the launch of smart contracts in a decentralized test environment. In interviews, a sentence by IOTA CEO Dominik Schiener made people sit up and take notice: IOTA is not an Ethereum killer. Ethereum (ETH) and the associated ecosystem are the measure of all things when it comes to smart contacts in terms of market capitalization and number of use cases. Competitors like Solana (SOL) or Polkadot (DOT) therefore naturally take their cues from Ethereum. So what does Schiener mean when he distances IOTA from this comparison?
Well-known IOTA-Ethereum fan Linus Naumann has published a much-noticed attempt to explain IOTA smart contracts and Schiener's remarks on Reddit. At its core, Naumann clarifies how the concept in IOTA differs from Ethereum and. Co. To solve capacity problems, DeFi projects, for example, put a second blockchain on top of Ethereum's with their smart contracts, one speaks of layer 2 solutions. IOTA, on the other hand, is striving to become a Layer 0, i.e. it wants to push its Tanglenet under the Ethereum blockchain.
In this way, IOTA would open up to all other blockchains in the future and allow them to use smart contracts in their usual programming languages and also to hold on to their own coins. Such solutions would benefit from the freedom from fees in Tanglenet and high flexibility. Thus, Schiener's words about "not being an Ethereum killer" to IOTA should be interpreted as IOTA becoming an "enabler" for Ethereum. Schiener seems to be happy about this support, at least he recommended Naumann's article via tweet.
Argumentation on smart contracts with IOTA weakens
Partly directly in his essay, partly in the comments, however, Naumann also mentions where obstacles to IOTA smart contracts lie:
1. currently, IOTA Smart Contracts only run under IOTA 2.0 in the decentralized DevNet. Although the IOTA Foundation also wants to enable smart contracts under IOTA 1.5 in Tanglenet soon – but this is burdened by the central coordinator. Naumann is stoking hopes that IOTA 2.0 for the mainnet will come as early as 2022. Other experts are not so optimistic about the target date and expect 2023, but it remains clear that without decentralization, IOTA has no real chance of getting external projects to dock.
2. the much-vaunted freedom from fees with IOTA is to be maintained in a decentralized Tanglenet by Mana. But even the complicated Mana system is only in the testing phase, and skeptics believe Mana will develop monetary value in practice. Naumann concedes: Mana is needed to run high-capacity network points on IOTA, which is becoming essential for connecting external smart contracts. Mana is allocated depending on IOTA 2.0 credit. In short, without investing in IOTA, the plus points of the future decentralized Tanglenet will not be fully realized.
Conclusion: still many stumbling blocks for IOTA smart contracts.
Naumann succeeds in describing the theoretical potential of smart contracts in IOTA in an understandable, unagitated and factual manner. Because he also does not avoid predictable difficulties, his word article is a clear reading recommendation for IOTA investors. However, even Naumann cannot change the crux of IOTA: The practical implementation of lofty goals in the development work at IOTA 2.0 lags behind all schedules, decentralization has become a kind of final opponent for IOTA. In addition, Mana suggests the introduction of fees through the back door in IOTA 2.0.
Whether an IOTA complete package for smart contracts in 2022 or more realistically 2023 will be sufficient to attract, complement or even compete with Ethereum 2.0, Solana, Polkadot and others? Professional doubts about this are certainly allowed, even if they are not gladly heard in the IOTA community, as experience has shown.
---
Best place to buy Bitcoin and IOTA: