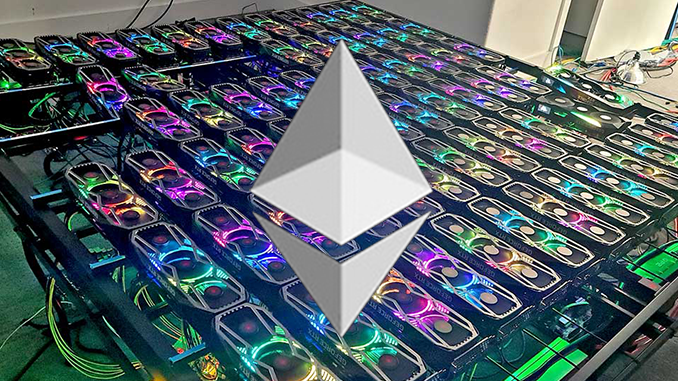 The transition to Ethereum 2.0 in 2022 at the latest, and even before that the change in the fee schedule (EIP-1559), call the business model of ETH miners into question. What will happen to Ethereum miners?
Bitcoin mining has received a lot of attention recently because China is systematically driving this industry out of the country. But miners are also facing critical times with Ethereum (ETH) as the second most important cryptocurrency in the world. That's because two events of a technological nature at Ethereum will fundamentally change the miners' business in the coming months. We explain what lies ahead for the ETH ecosystem and Ethereum miners:
1. at Ethereum, the London upgrade is scheduled for July and it is becoming apparent that the controversial EIP-1559 proposal will be implemented in the process. With EIP-1559, Ethereum wants to get a grip on the problem of high transaction fees, which have been flowing into the miners' coffers up to now. Through EIP-1559, Ethereum will automatically set transaction fees and then use them to buy back and destroy ETH. In theory, this should also support Ethereum's price. But miners are missing out on the important extra income of transaction fees. Whether the first miners will then turn away from Ethereum remains questionable, because mining is profitable at the current price level of ETH.
The even bigger step will be Ethereum 2.0. With this, Ethereum will switch its protocol to Proof-of-Stake (PoS). This is how Ethereum wants to ensure future viability, because PoS will radically reduce energy consumption in the ecosystem while multiplying the power of the blockchain. But with Ethereum 2.0, there will be no more mining. Developers at Ethereum have already reached out to ETH miners via Twitter, recommending that they expect mining to end as early as the end of 2021 if they plan conservatively. Apparently, development work on Ethereum 2.0 is proceeding apace, as skeptics had expected the big switch to happen more in 2022.
Miners will migrate with Ethereum 2.0
Even if Ethereum 2.0 does not come as early as now promised: From that moment on, mining will be a thing of the past with ETH. Ethereum miners typically use high-performance graphics cards for their business. Experts say: With this hardware, it would be logical for ETH miners to rely on Ethereum Classic (ETC) or Ravencoin (RVN) in the future. Because with these two altcoins, the special capabilities of graphics cards have an advantage in the protocol for mining over the ASIC miners, which are standard for Bitcoin. Basically, observers predict that Ethereum miners will maintain their business until the last day before ETH 2.0 and then turn to other cryptocurrencies to avoid writing off their expensive hardware.
Conclusion: Ethereum miners at a crossroads
From an investor's perspective, both EIP-1559 and Ethereum 2.0 are crucial developments if they work as planned. This is because the Ethereum ecosystem will have to compete with challengers such as Binance Coin (BNB) and Solana (SOL), especially in the important DeFi space. The current high transaction fees and very limited throughput of transactions on ETH are a major drawback. As Ethereum transforms, miners will have to watch their own demise unless they want to bring about a hard fork and provoke another Ethereum spinoff. Nevertheless, Ethereum miners do not have to expect pity, because with the all-time highs of ETH in 2021 they have normally made big profits. Graphic cards suitable for ETH mining are sold out and are sold on the secondary market at top prices. For you as an investor, the not yet exactly confirmed dates for EIP-1559 and Ethereum 2.0 remain important, from which impulses on the price curve are to be expected.
---
Best place to buy Bitcoin and Ethereum: