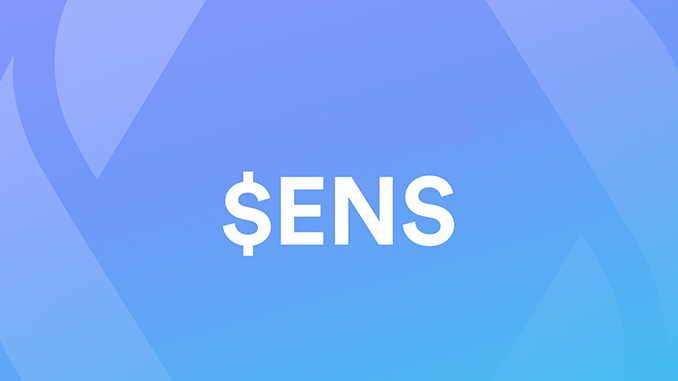 Ethereum Name Service (ENS) has only been freely tradable for a good 24 hours and has already gained a good 130 percent. The market capitalization of around 1 billion US dollars is evidence of the great interest in ENS.
Already in 2019, the Ethereum Name Service (ENS) start as a service through which interested parties could secure their desired domains with the extension .eth. Then, starting in fall 2019, particularly short and attractive ETH domains were auctioned via the Ethereum Name Service. Now this service, which is closely linked to Ethereum (ETH), is itself going to market in the form of a governance token. Since yesterday, November 9, Ethereum Name Service (ENS) can be claimed by anyone who already owns a domain with .eth, according to an official announcement. Right off the bat, then, a brisk market formed around ENS, as data from CoinGecko shows, for example
According to the data, the price curve of ENS rose quickly from around 30 US dollars to over 60 US dollars, giving Ethereum Name Service a plus of more than 130 percent on the first day of trading. ENS now has a market capitalization of around 1 billion US dollars. A good chunk of trading in Ethereum Name Service has been attracted by DEX SushiSwap, which promises additional bonus SUSHI for liquidity in ENS.
Here's why ENS is in such high demand
Ethereum Name Service, as a governance token, will ensure that the future of ENS is voted on. The first referendum, which is already underway, revolves around a constitution of sorts. Future decisions may include financial issues, and it would be possible that balances in ENS would be allocated a portion of the fees that the Ethereum Name Service collects. However, the principle that an eth domain cannot be blocked against the will of the owner is not to be shaken. A secondary market has already developed around attractive domains with .eth for some time. The principle of linking an Ethereum address and thus account with an easy-to-remember Internet address has proven itself in this respect.
Conclusion: ENS is the star of the hour
There is still time to claim ENS until May 2022 and about 25 percent of all ENS should be launched by then. For now, Ethereum Name Service seems to be experiencing very volatile pricing. What return opportunities ENS will deliver, even in the medium term, remains to be seen. But Ethereum Name Service has already stoked interest and demand.
---
Best place to buy Bitcoin and Ethereum: