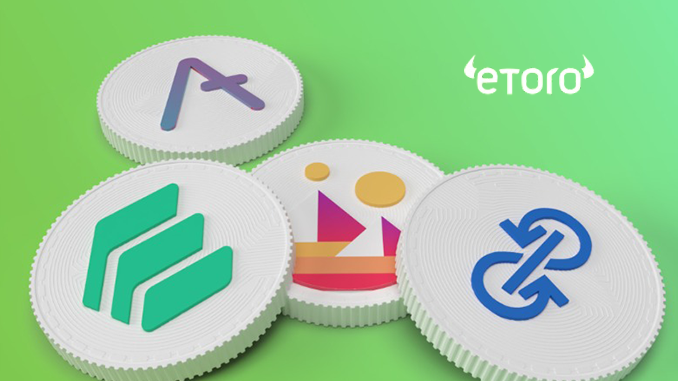 As of now, eToro has added no less than four interesting cryptocurrencies to its portfolio: In addition to the DeFi tokens AAVE, yearn.finance (YFI) and Compound (COMP), Decentraland (MANA) joins eToro.
Investors beware: eToro is bolting on its offering for easily tradable cryptocurrencies, adding four altcoins to its lineup in one fell swoop. Among the 23 cryptocurrencies now listed on eToro are the new additions AAVE, yearn.finance (YFI), Compound (COMP) and Decentraland (MANA). According to eToro's announcement, these cryptocurrencies are backed by real tokens, but are not tradable in this design for customers from France and Australia. However, this is not a problem for investors from Germany, Austria and Switzerland. We briefly introduce the four altcoins to you:
AAVE is a DeFi project that brokers credit transactions. AAVE was formerly known as LEND and has a unique selling point with so-called flash loans. As a result, AAVE has established itself in the TOP 30 of the most capitalized cryptocurrencies worldwide.
Compound (COMP) is also among the emerging DeFi tokens with a focus on loan transactions. Thus, COMP and AAVE are often in direct competition.
yearn.finance (YFI) is broadly positioned as a DeFi token: From yield farming to loan deals to liquidity for insurance, the range of DeFi deals offered at YFI is broad. Yearn.finance places particular emphasis on simple and intuitive user experience.
Decentraland (MANA) is an altcoin that is used as a means of payment in a virtual game world. For this reason, Decentraland and MANA are sometimes classified under the NFT token division.
Invest in COMP, YFI, AAVE or MANA now?
Most recently, eToro has picked up on a crypto industry trend with its rapid listing of Dogecoin (DOGE). As of April 2021, two major DeFi tokens, Chainlink (LINK) and Uniswap (UNI), had already joined eToro. The DeFi division is attractive to investors due to shiny growth projections and is now more broadly represented by AAVE, yearn.finance (YFI) and Compound (COMP) at Toro. Decentraland (MANA) brings the theme of games and NFTs to eToro. To diversify one's investment in crypto, all new additions to eToro are suitable.
Conclusion: eToro follows trends in the crypto industry
German customers appreciate at eToro that this platform provides German-language support throughout. Moreover, not only Bitcoin and Co. can be traded at eToro, but also dozens of popular stocks, commodities, ETFs and more in parallel. With the new listings from the crypto industry, eToro proves to have a good sense of which altcoins are in demand by active traders. Whether COMP, YFI, MANA or AAVE also fit into your strategy, of course, you still have to decide for yourself.
---
Best place to buy Bitcoin: