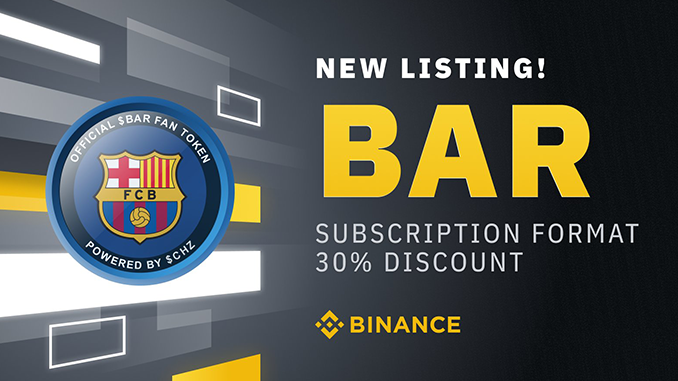 Binance enters the business with so-called fan tokens and has initially listed the FC Barcelona Fan Token (BAR). BAR experienced a strong price boost as a result.
Professional soccer and the crypto industry may not go together at first glance, but on closer inspection, collaborations are on the rise, especially among internationally known top clubs such as Manchester City. Typical expressions of such cooperation are so-called fan tokens, the purchase of which grants exclusive access to digital souvenirs or surveys among fans, for example. But so far, the major crypto exchanges have mostly avoided such fan tokens. This is now changing with and at Binance. That's because the world's largest crypto exchange has added the FC Barcelona Fan Token (BAR) to its portfolio and has been beating the drum hard for BAR in advance through a discount program. As a result, BAR reached an all-time high of just under $80 in the short term by relisting on Binance, and the issue raised $2 million directly for FC Barcelona.
Also in light of the tragedy surrounding the secretly planned and then obviously quickly failed European Super League, the FC Barcelona Fan Token (BAR) is a good example to shed some light on the situation. Launched back in the summer of 2020, BAR was a collaboration between Chiliz (CHZ) and Socios. In the pre-sale, BAR went to registered club members of FC Barcelona. At the initial listing are held around 6 US dollars per BAR. Promised are with the BAR according to Binance Research access to a platform, on which then again of tickets over Merchandise up to obligatory inquiries to the FC Barcelona everything over BAR is transacted. This is expected to create a thriving environment for other fan tokens as well, bringing additional revenue to clubs and profit opportunities to investors as in BAR.
Binance gives BAR attention
When it comes to issuing fan tokens in professional soccer, Chiliz (CHZ) has established itself with its modified Ethereum blockchain. In U.S. basketball, it is FLOW that is setting the tone as the technological underpinning. What happened now with Binance is remarkable. As a high-reach crypto exchange, Binance offered BAR at a 30 percent discount to the market price for anyone willing to contribute Binance Coin (BNB) to the deal. The offer was overstated by a factor of 1,594, as just shy of 75,000 BAR went on sale. Those who got in on the Binance action were able to realize profit-taking of over 100 percent on the relisting that immediately followed; meanwhile, BAR has settled back down closer to the issue level. However, the significant demand and price gains for the FC Barcelona Fan Token (BAR) demonstrate interest in the Fan Token, which apparently comes from more than just die-hard supporters of the traditional club.
For now, Binance is listing BAR in its Innovation Zone, where significant risks to investors are highlighted with particular urgency. As of now, there are just under 3 million of the originally generated 40 million BAR in circulation, and each year FC Barcelona plans to sell another 5 million BAR from its holdings, suggesting major inflation risks. However, if nothing else, the trend towards NFTs and thus possible digital devotionals seems to eliminate concerns about fan tokens. Whether Binance intends to list more Fan Tokens in the near future is an open question.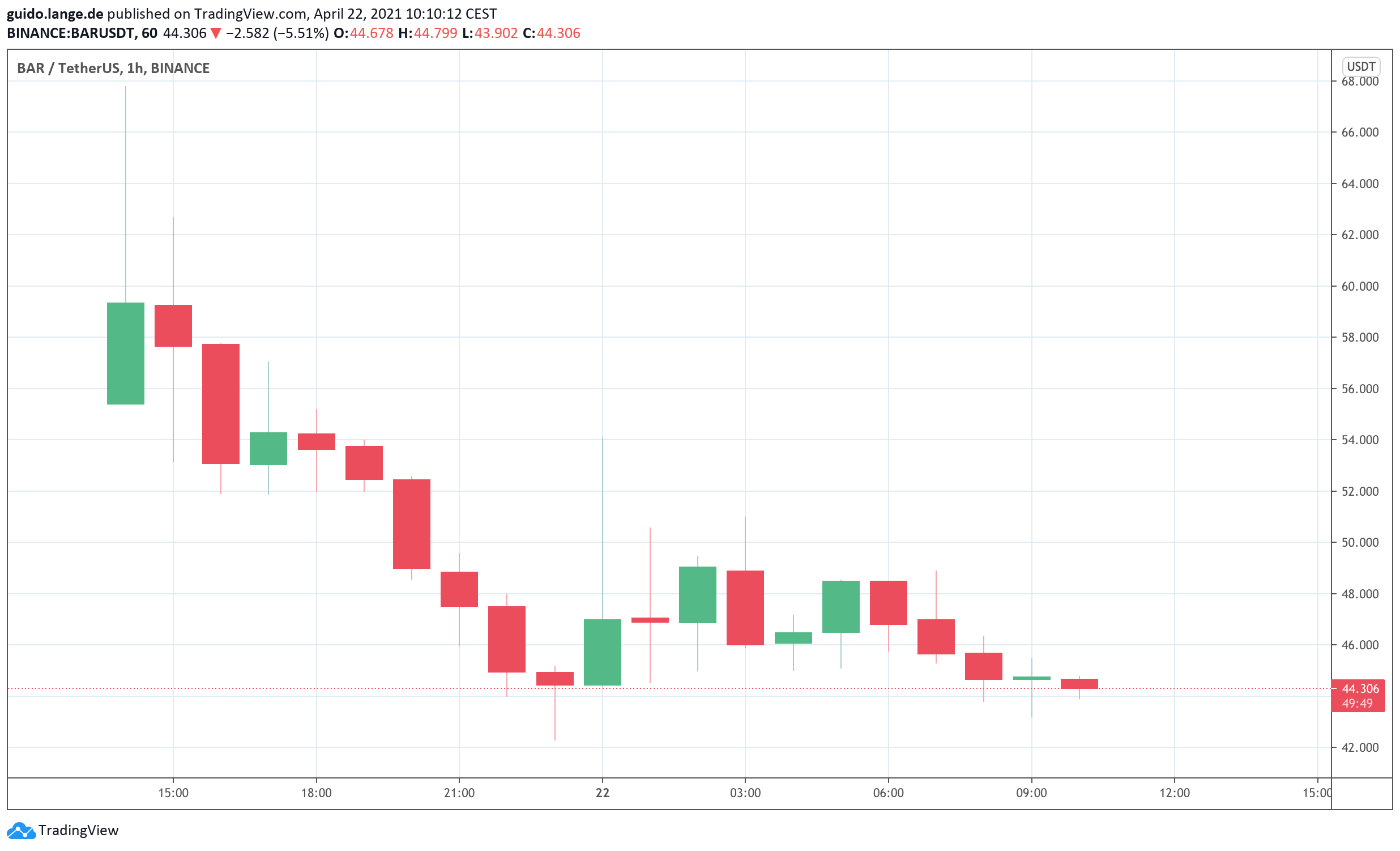 Conclusion: Binance opens up a new business segment with BAR
According to experts, FC Barcelona is squeezed by a debt burden of more than 1 billion euros. The twelve top clubs announced for Super League are said to have accumulated a combined total of more than 7 billion euros, which puts the initial investment of 3.5 billion for Super League by US major bank JP Morgan that was announced in prospect into perspective. The $2 million for BAR by Binance is a side note in that context anyway. But they indicate the potential that professional sports and the crypto industry are discovering in fan tokens. For you as an investor, investments in CHZ or FLOW will probably remain safer in the medium term, since ecosystems for fan tokens without their own favorites are represented here. However, if you absolutely want to be part of FC Barcelona, at least digitally, you can simply enter a predictably speculative business with BAR at Binance from now on.
---
Open a Binance Account here and save 10% on fees for a lifetime.