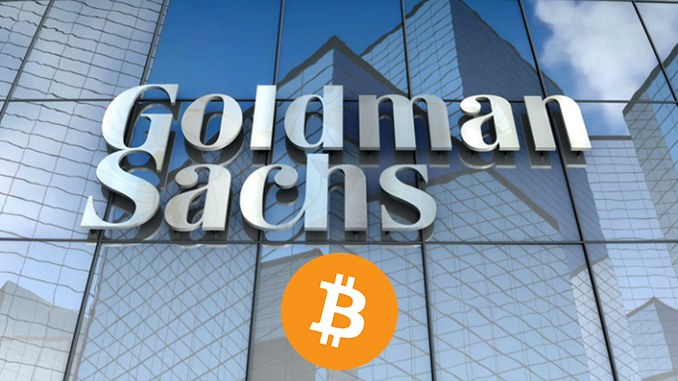 The major US bank Goldman Sachs is considering the idea of launching its own Stablecoin. This was revealed in the first interview with the new head of the department for crypto-values, Mathew McDermott. He also announces that his team is expanding and Goldman Sachs will become more involved with Blockchain and Co.
A change in Goldman Sachs' policy regarding the crypto industry? As recently as May, the long-established financial institution had advised its customers against investing in Bitcoin (BTC), thereby earning itself a reputation as a crypto-sceptic. But now a personnel decision indicates that Goldman Sachs does not want to lose touch with innovations in the financial world. Mathew McDermott has been appointed head of the crypto-values department, and in his first interview the 46-year-old paints a future in this position in which tokens and blockchains modernise the classic financial world. In the next five to ten years, all kinds of financial transactions will be handled in block chains, McDermott believes. However, he did not want to reveal whether he owns Bitcoin and/or other crypto currencies himself.
What is Goldman Sachs planning in terms of crypto?
McDermott comes from the finance division and sees this as a priority for his new department. Short-term financing is an example of what is suitable for standardization. More than 1 trillion US dollars are traded on the markets every day in this division. McDermott says that by mapping these transactions digitally, costs can be saved and at the same time, real-time processing is guaranteed. He also said that one of his first tasks would be to expand his team with employees worldwide and double the number of professionals. The first prominent addition is Oli Harris, who joins from JPMorgan, where he was instrumental in the development of the JPMorgan Stablecoin.
According to McDermott, Goldman Sachs is also considering launching its own Stablecoin. "We're looking at the commercial viability of our own digital Fiat token," said McDermott, "by playing through user scenarios. He has recently had many discussions with Facebook and JPMorgan to hear more about their experiences with regulators. For digital currencies to reach a critical mass of users from the financial world, consensus must be sought with international investors, regulators and other banks. McDermott can also imagine Goldman Sachs working with competitors to achieve this.
McDermott sees a triumphant advance of digital financial ecosystems as possible. Whether it be bonds, securitization or lending – in his view, almost all typical financial transactions are basically suited to migrate to the block chain and thus be organized more efficiently. Such a development would also be accompanied by job cuts in the departments concerned, McDermott admits.
However, he reacts rather evasively to the question of whether Goldman Sachs should not also enter into the trade with Bitcoin and Co. There is growing interest from institutional clients in how they could benefit from crypto-markets, this "definitely feels like a resurgence of interest in crypto-currencies," McDermott says. Goldman Sachs, like other big names on Wall Street, had buried plans to create Bitcoin divisions during the cryptowinter 2018/9. It was not until the summer of 2019 that Goldman Sachs cautiously resumed its examination of market opportunities for financial instruments based on crypto-currencies.
Conclusion: New wind at Goldman Sachs for crypto division
McDermott sounds consistently pragmatic in his remarks. For him, it is crucial that projects remain realistic and have commercial value for Goldman Sachs. The advantages of block-chain technology and distributed ledgers are apparently at the forefront. But McDermott also wants to respond to customer wishes, and Goldman Sachs could soon begin making Bitcoin, leading old coins and related financial instruments such as futures available to its customers. This is encouraging for the crypto industry, because many experts believe that growth in this sector will depend on how quickly connections to the traditional financial world can be established. Goldman Sachs, with 150 years of history and worldwide influence, is certainly a good name for this.
---
Best place to buy Bitcoin: