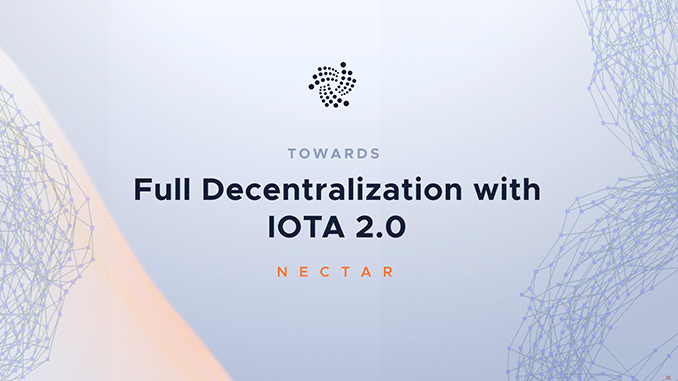 The IOTA Foundation announces that it will soon open a testnet for IOTA 2.0 for developers. In general, they want to handle the schedule towards IOTA 2.0 more flexibly than previously communicated.
In April 2021, IOTA recorded a major technological advance with the upgrade Crysalis. From the now reached IOTA 1.5, the elimination of the central coordinator should succeed in the future. In a blog post, the IOTA Foundation summarizes where one stands on the path towards IOTA 2.0 (Coordicide). According to this, the experiences from the first testnet for IOTA 2.0 called Pollen are positive. Now a DevNet christened testnet for a fully decentralized IOTA could go live soon, it says.
The announced DevNet for IOTA 2.0 is associated with a change in strategy. Previously, the Pollen testnet was to be followed by two others, Nectar and Honey. This rigid structure will be cancelled and instead DevNet should be gradually equipped with new functionalities, writes the IOTA Foundation. Highlighted here are smart contracts and digital assets, both prerequisites for DeFi under IOTA. For this purpose, NFTs and DApps are issued as a goal for IOTA. Currently, however, fine-tuning of the node software GoShimmer and the system for Mana are still necessary before DevNet becomes public.
IOTA Foundation admits mistakes
The IOTA Foundation combines the plans for DevNet with an apology. It said it may have raised false expectations when it described the path toward IOTA 2.0 as clearly defined with Pollen, Nectar and Honey as three testnets that build on each other. The new DevNet solution since more pragmatic and should help accelerate the transition to IOTA 2.0. The catch is that the IOTA Foundation no longer publishes any concrete timetables and the current article also does not provide any more precise information about when DevNet will actually arrive instead of the expected testnet Nectar.
Conclusion: Is IOTA treading water?
As usual, the IOTA Foundation ends its latest water status report with the pathetic assessment that IOTA 2.0 is like an unstoppable train that has left the station. Whether that will be enough for investors, however, remains questionable. In a nervous overall market, IOTA has recently lost ground and is trading at around $1.00. Ranking 36th among the top cryptocurrencies by market capitalization, IOTA is a far cry from past successes. The eloquent positive outlook on DevNet for Coordicide does not change the fact that delivery is needed when it comes to IOTA 2.0. Actually, decentralized IOTA should still be a reality in 2021. Doubts about this are growing.
---
Best place to buy Bitcoin and IOTA: