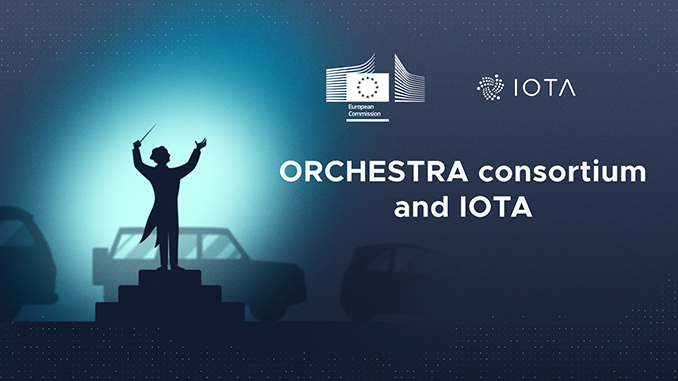 The IOTA Foundation has again won an EU tender. This time, it will be a project partner in ORCHESTRA, where it will help to better connect different means of transportation.
In its search for financial grants and practical use cases, the IOTA Foundation reports success. According to a blog post, IOTA has been selected as a technological partner for the EU project ORCHESTRA until 2024 and will receive just under 250,000 euros of the total 4.9 million euros allocated for ORCHESTRA. ORCHESTRA will test methods in Italy and Norway for making passenger and freight transport more efficient and safer. In IOTA's Tanglenet, information will be collected, automatically analyzed and forwarded.
The IOTA Foundation chooses the current challenges posed by the Corona pandemic as an example of where ORCHESTRA comes in. Currently, transit agencies such as subways, buses and intercity railroads would only each collect passenger counts and adjust capacities accordingly. At transfer points, however, people then continue to come closer together than Corona rules. In ORCHESTRA with IOTA, the project design continuously measures passenger volumes, and the different modes of transportation can be directed to avoid congestion at transfer points.
This orchestration of means of transport on land, water and in the air is also to be applied to goods in ORCHESTRA. Tests for passenger transport are planned in Milan, Italy, and freight transport and supply chains under ORCHESTRA in Norway. IOTA aims to play to its strengths as far as tickets for transportation. It is emphasized that through IOTA, completely different data points can provide tamper-proof information and at the same time determine who is allowed to read and evaluate which information. To this end, IOTA Identity is also to be introduced, a module of IOTA on digital identities that is currently under development and can also be used to implement vaccination passports.
IOTA in summer 2021 with light and shadow
ORCHESTRA is another example of how IOTA scores in EU projects. Mining and Smart Cities are just two of many other European-funded projects where IOTA is making an innovative impact. However, one should not forget: With monthly costs of the IOTA Foundation of around 1.3 million euros, the 250,000 euros stretched over three years for ORCHESTRA are only a little extra income.
Meanwhile, there is growing displeasure among investors that the current IOTA 1.5 is still not compatible with the widely used Ledger hardware wallets and is also not fully supported by some major crypto exchanges such as Binance. Here, the impression suggests itself that IOTA Chrysalis works stably in its own right, but was hastily set in motion. Because the data show: Just 46 percent of all IOTA have been migrated to the current Tanglenet 1.5 so far, the majority are still stuck on the old IOTA 1.0 and are thus useless in everyday life.
---
Best place to buy Bitcoin and IOTA: