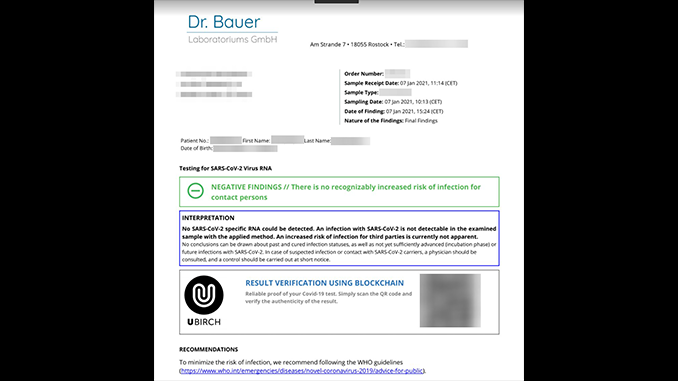 IOTA is attracting international attention by helping to make Corona test certificates digitally readable and tamper-proof in a German pilot project.
Early in the Corona pandemic, resourceful developers proposed using IOTA's Tanglenet to design digital defenses against the spread of the virus. True, not much has been heard of their app TrackCovidCluster since then. But now, in another practical example, IOTA is happy to use Tanglenet to help improve the situation with regard to Corona. On several occasions, Dominik Schiener, head of the IOTA Foundation, spread international media reports via Twitter that mention IOTA, Corona and Frankfurt Airport in the same breath. Behind the project is German startup Ubrich, which is dedicated to bringing healthcare and blockchain solutions together.
In the age of Corona, Ubrich has identified the need to record test results in a tamper-proof way to simplify travel, nursing home visits and similar scenarios. "Digital Corona Certificate" is what Ubrich calls his solution. The fact that this is already accepted at Frankfurt Airport made the rounds on Twitter. Ubrich followed up, saying that the system is already in use at four German airports. The principle is simple: after a Corona test, certified labs assign a digital code, the result of which also goes into IOTA's Tanglenet, among other places.
This test result is also made easily machine-readable via a QR code. As a result, users can clearly prove that they have a current negative Corona test, for example, by smartphone or by printing it out at checkpoints. Feeding the data into IOTA's Tanglent guarantees that the code can be uniquely assigned individually and also records the time. In the future, Ubrich plans to expand this concept to a digital vaccination card. Ubrich has also already published a short video on the subject of Corona tests and the digital world.
Conclusion: advertising for IOTA in the Corona crisis.
It is good to hear that experts from the crypto industry are also contributing their knowledge to differentiate the restrictions in public life caused by Corona in a responsible and everyday way. Evidence of Corona testing and inoculation certificates will likely be with us for a long time, and a blockchain as a neutral and secure entity plays to strengths here. But those who want to make IOTA solely responsible for Ubrich's success are mistaken. Ubrich itself explicitly talks about several blockchains into which data is fed, and only one of them is Tanglenet. The initiative also came from Ubrich with partners like Lufthansa, not from IOTA. This promising project would have been a perfect fit for the Tangle EE working group, in which the IOTA Foundation aims to further develop the topic of digital identity in a practice-oriented manner with partners from business and science.
---
Best place to buy Bitcoin and IOTA: