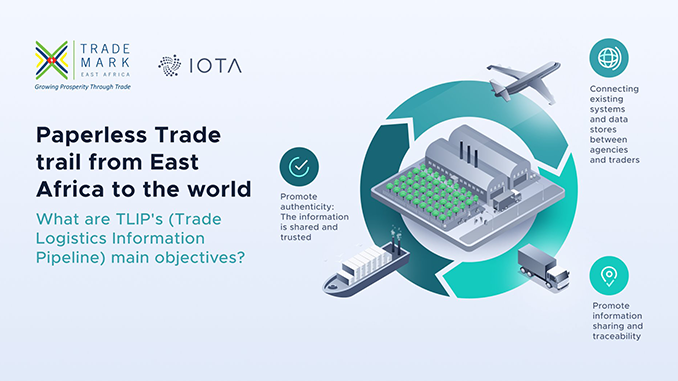 The cooperation between IOTA Foundation and TradeMark East Africa has resulted in a first project. This aims to make logistics more efficient for cross-border shipments.
In March 2020, the IOTA Foundation announced a deepened partnership with TradeMark East Africa, and just over a year later, the collaboration is bearing its first fruit. Online, the IOTA Foundation outlines how it now plans to practically support business in the East Africa region. The aim is to make border controls and clearance faster and more secure through digitization. The non-profit association TradeMark East Africa expects this to have a positive impact of more than 5 percent on the gross national products of the countries involved.
The IOTA Foundation describes the typical route of a shipment in East Africa as mink-driven. Thirty different entities from manufacturers to freight forwarders to border posts and consignees are involved with a shipment, it says, and use up to 200 different channels to communicate with each other. With IOTA, Distributed Ledger Technology (DLT) is expected to simplify operations as a central digital hub. Here, information is entered, updated and verified by all parties involved. This will result in significant time savings, the IOTA Foundation predicts, and also points to greater transparency.
Trademark East Africa is represented in eleven countries in the region and is now to help persuade government agencies to join in as well. Because one thing is clear: The success of the "Information Pipeline for Trade and Logistics" proposed by the IOTA Foundation will depend heavily on whether it receives support from the private sector and government agencies.
IOTA projects with mixed successes
The IOTA Foundation frequently reports on new projects, with more than a dozen already in 2021, but often the results are sobering; the TradeMark East Africa partnership, for example, took 15 months to get an update. And the "information pipeline" for East Africa that IOTA promotes currently exists only in an online presentation. Crucial questions about funding and commitments from governments to participate are left out. But in theory at least, IOTA's push sounds compelling and could generate more awareness and attention for IOTA on the continent. Cardano (ADA) has also recently discovered Africa for itself and is cooperating with the Ethiopian government on a major project in Ethiopia on digital identities.
Conclusion: IOTA price development disappointing
Price-wise, IOTA is again experiencing a downward trend in 2021. At the launch of IOTA 1.5 aka Chrysalis in April, highs of over 2 US dollars were quoted, meanwhile IOTA ranks below 1 US dollar again. Of course, IOTA's price curve is also influenced by trends in the overall market, but internal problems like the still missing link between IOTA 1.5 and Ledger hardware wallets do the rest. Announcements about IOTA projects like now are mostly ignored by the market, probably because they remain too vague.
---
Best place to buy Bitcoin and IOTA: