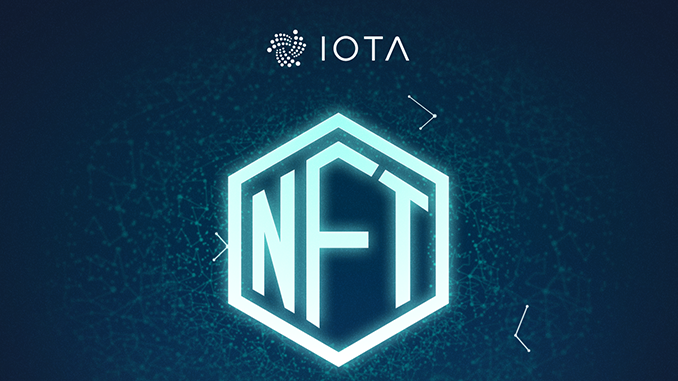 IOTA developers have gone live with an NFT marketplace that is technologically based on the testnet for the future IOTA 2.0. This is intended to demonstrate how IOTA could get in on the NFT boom.
NFTS (Non-fungible Token) are undoubtedly one of the topics this year to electrify the crypto industry. Hardly any market participant wants to miss the business opportunities associated with these unique tokens, which digitally represent, for example, works of art or exclusive merchandising items. At the launch of its DevNet as a public test nest for IOTA 2.0, IOTA also emphasized that NFTs can be created there. Now the IOTA Foundation proudly refers to a resulting NFT marketplace, behind which independent developers stand, via a blog post.
This NFT Marketplace powered by IOTA appears at first glance to be pleasantly tidy in design, and everyone should decide for themselves about the artistic quality of the individual NFTs shown. But in reality, the project, which is in test mode, is also about demonstrating how the IOTA ecosystem could play to its strengths in the market for NFTs in the future.
After all, one Achilles' heel of NFTs is high fees for their creation and when they are sold, at least in the case of market leader Ethereum (ETH). The IOT Foundation calculates: When an NFT is documented in the Ethereum ecosystem, the creator must budget around $200 for it, and when it is sold, just such a sum is then due as a transaction fee. In IOTA, on the other hand, as a fee-free network, there are no fees when transferring an NFT from one owner to another. It should also be possible to create an NFT for very small amounts; when testing the IOTA marketplace, interested parties even get the necessary MIOTA for free.
Mind you, the new IOTA NFT marketplace is a pure test version. The MIOTA moved there have no monetary value. Once IOTA 2.0 becomes a reality, a migration of the IOTA 1.5 now used in practice to the then decentralized Tanglenet is on the cards. The makers of the demo of the NFT marketplace for IOTA 2.0 would then want to make money by charging commissions for matching sellers with collectors. With this concept, IOTA would actually be cheaper than other NFT solutions such as Tezos (XTZ) or Binance NFT.
Conclusion: time is running out for IOTA 2.0
The IOTA NFT marketplace vividly demonstrates: in purely theoretical terms, the IOTA ecosystem, which was launched back in 2017, has attractive features with its focus on the Internet of Things (IoT) and its freedom from fees. But in practice, there is always a lack of further development, and IOTA 2.0 is supposed to finally bring a decentralized network with new possibilities. But IOTA 1.5, touted as an interim step in late April, has proven problematic, with the promised connection to Ledger hardware wallets still unimplemented. The IOTA Foundation has stopped giving timelines for its projects and thus it is also completely open whether IOTA 2.0 aka Coordicide will come in late 2021 as originally announced. The state of affairs is that IOTA's supporters will have to watch other crypto assets make revenue in the booming DeFi and NFTs divisions. These issues do not work without a decentralized network as the basis for trust. With all due respect to the NFT IOTA platform – it will remain a nice looking gimmick until IOTA 2.0 and will face broad established competition if it could ever realize real, monetized trading in NFTs.
---
Best place to buy Bitcoin and IOTA: