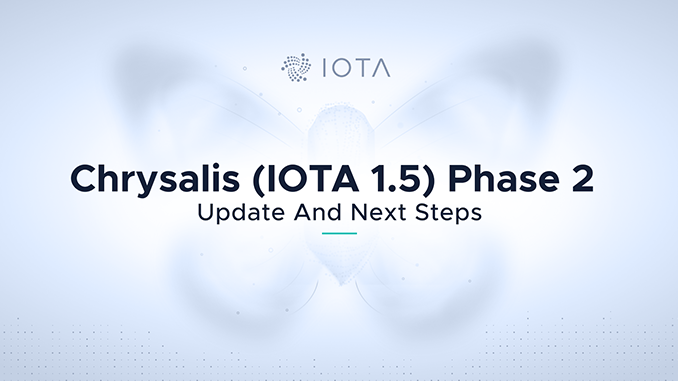 On the way to IOTA 1.5 the IOTA Foundation has to admit a setback. The start of Chrysalis Phase 2 cannot take place at the end of October as previously announced. It is now hoped to complete IOTA 1.5 by the end of 2020.
Skeptics had predicted it, now it is official: IOTA has fallen behind in its ambitious plans for a comprehensive update of the network and therefore presents a new schedule for IOTA 1.5 via blog post. Under the project name Chrysalis IOTA has been working on comprehensive changes in its technology for quite some time and ultimately wants to prepare IOTA 2.0 aka Coordicide as a decentralized network. Chrysalis is to be introduced into the Mainnet in two phases, phase 1 was launched in August. Phase 2 of chrysalis should be completed by the end of October and IOTA 1.5 should be completed. Now Node Software for Chrysalis Phase 2 will be tested in October or November. Depending on the results it is hoped to launch later in 2020, it is now said vaguely.
Hope for IOTA 1.5
On Twitter the discussion about the revised plans at IOTA focuses on the "colored coins" besides the date for chrysalis phase 2. The latest water level report from IOTA also made it clear: With the generally expected introduction of "colored coins" at IOTA as an important feature for applications, chrysalis will no longer be an issue. Instead, the "colored coins" will be implemented in a separate update, it is now said without naming a target date. It also remains unclear how far the development of a new wallet at IOTA has progressed, which should actually replace the previous official Trinity Wallet under IOTA 1.5.
Conclusion: Further technological development of IOTA is stalled
Although it is not bad news that IOTA has to spread now, it is not good news either. Not only investors, but also partners from the industry are waiting with dwindling patience for the IOTA Foundation to fulfill its promises. The Tanglenet and IOTA ecosystem is in urgent need of renewal with a view to practical requirements – and this is where IOTA once again has to put off uncertainties about the future. If you read the current situation report carefully, you can guess that other important details will be delayed. It remains to be seen whether a decentralized IOTA 2.0 in 2021 is still within the realm of possibility. To save IOTA's honor, IOTA is not alone with its changed schedules. At Ethereum, for example, the cryptoscene has been waiting for years rather than months for the big leap to Ethereum 2.0.
---
Best place to buy Bitcoin and IOTA: