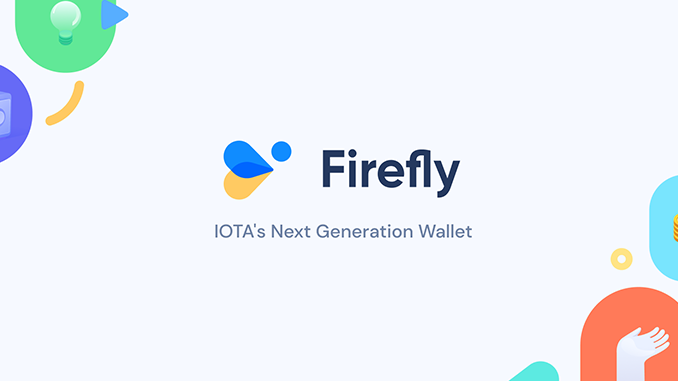 With the technological upgrades in Tanglenet, IOTA also needs a new official wallet. This will be called Firefly and is scheduled to be released for testing in December. IOTA praises Firefly as a big step forward.
At IOTA, the switch to a decentralized network under the name Coordicide is not only internally a top priority on the task list. But before that, Chrysalis Phase 2 has to be completed, which IOTA 1.5 should mark. Currently, February 2021 is assumed. Then a new wallet called Firefly will also replace the current official Trinity Wallet, writes the IOTA Foundation in a blog post. The development of Firefly is said to have been based on a completely new concept of wallet design.
Background to IOTA Wallet Firefly
Firefly should be available in December as the first alpha version and can then be tested. At first there will be only a desktop version, apps will follow later. IOTA describes the software Wallet Firefly as a central access point to the ecosystem of IOTA and lists features that should be available at the start:
Multi Accounts and Multi Profiles: Firefly will be able to manage the access data of multiple users. Each of them will only have access to their own accounts at IOTA. He can create several accounts at Firefly, e.g. one account linked to a Ledger Hardware Wallet and one for daily expenses.
Firefly for IOTA is supposed to be very user friendly and show basic information as soon as the personal pin is entered. Besides account balances there will also be a display for the status of Tanglenet.
Firefly will benefit from Chrysalis and will finally support reusable addresses at IOTA.
IOTA wants to guarantee security at Firefly by a recovery phrase following the example of hardware wallets. Whether Firefly is already undergoing external audits was not specified.
The IOTA Foundation promises that Firefly will be expanded in the coming years and will support DApps, Colored Coins, digital identities and more.
Official IOTA Wallets – a sensitive issue
The current official IOTA Wallet Trinity was the reason for the shutdown of the Mainnet at IOTA in February and March. Hackers had discovered a serious security hole in the Trinity Wallet and started to exploit it. Only by disabling transactions could greater misfortune be avoided, for IOTA the situation was a huge loss of image. It took almost a month to fix the problem. So IOTA has to prepare itself for the fact that the Firefly Wallet will be looked at particularly critically.
In the discussion on Twitter users ask if and when Firefly can be connected to the Ledger Hardware Wallets. It is also unclear whether an identity check (KYC) will be necessary when setting up the Firefly wallet, which seems possible in view of the stricter EU directives in the fight against money laundering and terrorist financing. Information is also lacking on how IOTA intends to simplify the move from the Trinity Wallet to Firefly.
Conclusion: Firefly Wallet for IOTA – a great success?
The Firefly Wallet already looks nice, at least on the pictures of the user interface. But only the practical test will prove whether IOTA has really balanced the balance between security and usability with the Firefly Wallet. In any case, it seems that IOTA can deliver an important piece of the puzzle for the completion of Chrysalis on time. Meanwhile, MIOTA's share price is benefiting from the upward trend in the crypto market and has now been able to hold its ground for almost two weeks at over 0.30 US dollars.
---
Best place to buy Bitcoin and IOTA: