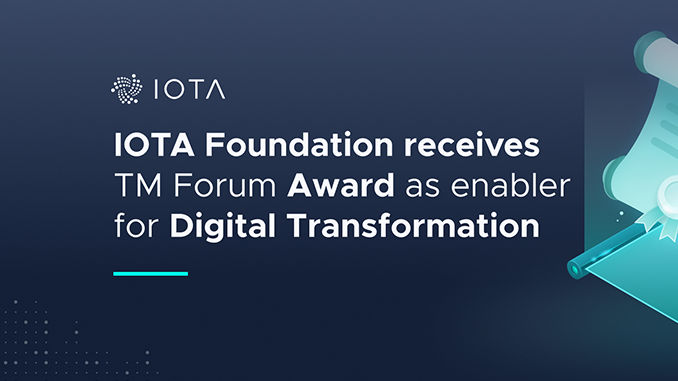 The IOTA Foundation may adorn itself with a title from TM Forum. The industry association, which is dominated by the telecommunications industry, awards IOTA in the category "Business Impact" for practical solutions.
For almost two years now, the IOTA Foundation has been involved in the industry association TM Forum. Now this cooperation is being recognized by the award of a prize for convincing project work in the area of "Business Impact" and specifically the co-development of a digital marketplace, as the IOTA Foundation proudly notes in a blog post. According to TM Forum, the prize is not endowed, however. IOTA has to content itself with the status "participant" and leave the more coveted level "champions" to others.
Background to TM Forum and IOTA
The TM Forum is dominated by ten leading global companies from the telecommunications industry and brings together more than 800 other companies, universities, foundations and other small associations. The goal is to develop practical solutions for future challenges in working groups, keyword digital transformation. Prizes were awarded this year in seven categories, three of which focused on the new standard 5G and thus marked the main topic.
IOTA describes its contributions to the TM Forum mainly as those that should lead to digital market places. There, for example, temporarily unused capacities for mobile data connections could be offered and demanded. IOTA brings its Tanglenet as a network in which hardware components automatically report their traffic jams to the marketplace and also find out when their capacities are booked. According to IOTA, this principle can also be transferred to factories, logistics and other areas. An integration of a wallet for payment transactions is also planned. According to IOTA, suggestions and solutions were specifically requested and accepted by other participants in the Catalyst Program.
IOTA's course is experiencing an upswing
The recognition of industry giants for IOTA has probably been good for MIOTA's course. Since its announcement, IOTA has increased by almost 50 percent and is currently quoted at just over $0.35 US dollars. However, the recent Bitcoin boom is also likely to have an impact on the upswing, giving the overall market for crypto currencies optimism. The positive tendency for IOTA must be confirmed to that extent still only still, which might be connected further closely with the progress for IOTA 1.5 and 2.0.
Conclusion: Is IOTA freeing itself from a low?
The IOTA Foundation is increasingly involved in projects that are supported by many, whether in the EU or, as is now the case with the TM Forum. This makes perfect sense, because there you get in direct contact with industry representatives as well as academic organizations. This gives the IOTA Foundation the opportunity to directly demonstrate its technology and its practical suitability. However, whether this is enough to iron out the crypto year 2020, which was disappointing for IOTA as a whole, is another matter. IOTA can expect little from a certificate alone, and the delays in the promised abolition of the central coordinator are viewed critically. It would also be desirable for IOTA that pilot projects like TM Forum finally become real use cases for the industry.
---
Best place to buy Bitcoin and IOTA: