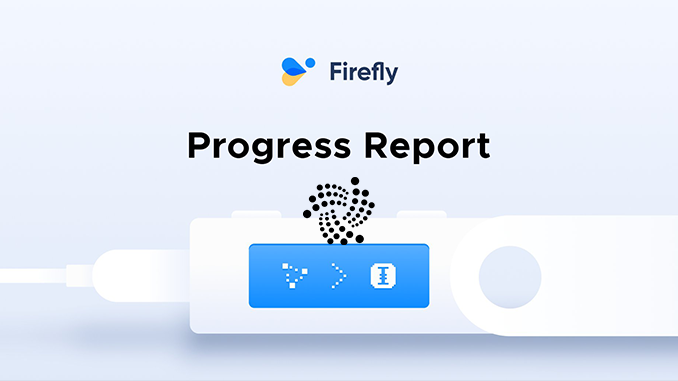 IOTA 1.5 has been online for a good two months, linked to the new official wallet Firefly. But among other things, the linking of Firefly with Ledger hardware wallets is not working. Now, according to IOTA, there is "progress."
With the official IOTA wallet Firefly and the upgrade of Tanglenet to version 1.5, the IOTA Foundation celebrated a decisive step toward future-proofing in its self-presentation at the end of April. But for many investors, disillusionment quickly set in, because a promised and crucial feature was missing: the linking of IOTA 1.5 Chrysalis with the popular hardware wallets from Ledger. This would be added as soon as possible, the IOTA Foundation said, and IOTA CEO Dominik Schiener assured "highest priority". Now a tweet from the IOTA Foundation gives hope:
#Firefly has now entered the testing phase with a closed testing group to find and fix any outstanding bugs & UX friction points. In the meantime, the Firefly backend has been audited, as well as the IOTA Ledger app itself. We will keep you posted as we progress. pic.twitter.com/OA2tOZeYGF

— IOTA (@iota) July 4, 2021
According to this, Firefly is currently being tested in a closed test group for bugs and usability improvements. The backend of Firefly has already been externally tested, as has the IOTA Ledger app. The IOTA Foundation calls this information a "progress report," and they will announce more progress soon.
IOTA wallet Firefly is becoming a problem child
However, the sparse news about Firefly could by no means convince all supporters of IOTA. In the comments, for example, people mocked that it was an "announcement of an announcement to announce an announcement". This alludes to the fact that repeated announcements by the IOTA Foundation on the interaction with the Ledger Nano S and Ledger Nano X have proven to be of little significance. The feature, which was actually promised at the launch of IOTA 1.5, also affects IOTA on crypto exchanges like Binance, which store IOTA on just such hardware wallets. IOTA backed up on a Ledger hardware wallet cannot currently be moved. In addition, newly purchased iOTA cannot be stored on the hardware wallets. Thus, IOTA lacks a fundamental cornerstone when dealing with cryptocurrencies, the secure storage on hardware wallets.
The IOTA Foundation has not yet responded to questions about what the progress report on the IOTA Firefly Wallet means in detail and what date one should mark in the calendar.
Conclusion: Trust in IOTA Firefly Wallet is waning
IOTA's Tanglenet is not a traditional blockchain and therefore always needs special technological solutions to be connected to crypto exchanges and wallets. That's why the official Firefly Wallet is so important and it should become the linchpin in IOTA's new ecosystem. However, mobile versions of Firefly are still pending and the existing non-compatibility with the widely used Ledger hardware wallets is more than just Achilles' heel. The promised support is now almost ten weeks in coming, and the loss of trust in IOTA is growing.
---
Best place to buy Bitcoin and IOTA: