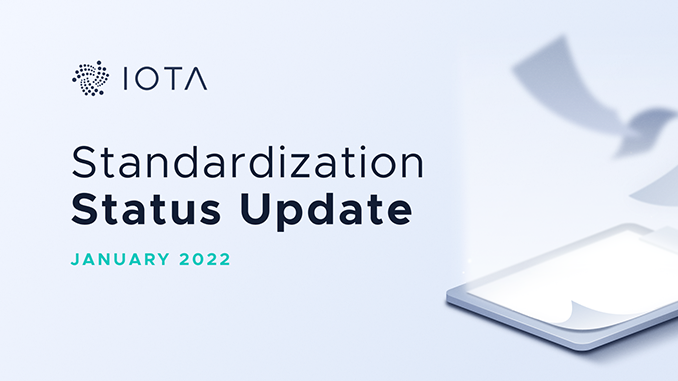 The IOTA Foundation has been involved for years with the Object Management Group (OMG) organization, which certifies industry standards. Now a concrete proposal has been made with IOTA Streams.
The topic of industry standards is a high priority for the IOTA Foundation, which has a permanent liaison to the Object Management Group (OMG) organization in Mike Bennett. The OMG consortium, with a good 800 members, certifies standards worldwide with a focus on the computer industry. Now, via blog post, IOTA reports a "significant milestone", namely the submission of the "first substantial proposal" for a future OMG standard. The focus is on IOTA Streams, IOTA's solution for how to organize flexible yet secure communication channels in the digital world.
Bennet writes that IOTA Streams is expected to feed into a larger project at the OMG that will, for example, standardize communications from end users to automated platforms. He says the IOTA proposals have been generally well received and valuable feedback has been received from other OMG members. Now the IOTA experts want to improve the proposal accordingly. At the next meeting of the relevant OMG groups in March, IOTA Streams will be discussed again.
Waiting for decentralized IOTA 2.0 also influences path towards standards
IOTA's quest for recognition as a basis for technological standards has tangible reasons. The OMG should succeed in making IOTA known and anchoring it in other industries beyond the crypto sector. Good opportunities are also expected for IOTA Identity, the company's own approach to defining and using digital identities. Here, too, the OMG is expected to set the course in the coming months and IOTA wants to play an active role.
Other areas in which IOTA is aggressively engaging with the OMG include smart contracts and the definition of digital currencies. But Bennet also acknowledges: The actually already expected submission of the actual IOTA protocol to the OMG for review is further delayed. This is where IOTA 2.0 is supposed to come in, but this development of a decentralized tanglenet at IOTA has experienced setbacks. They will bring IOTA 2.0 to the table at the OMG when the specifications are stable and ready for practical use, Bennet now says.
Bottom line: IOTA standards – official certification on the horizon.
Every few months, the IOTA Foundation publishes a progress report on what it has achieved as part of the OMG's collaboration. The water status report from November 2021 remained unusually vague, the latest report is characterized by more optimism thanks to IOTA Streams. Here, according to Bennet's account, a breakthrough beckons, with which IOTA would also prove to meet the OMG's extensive requirements for documentation and traceability in submissions. For now, however, these are prospects that have yet to be confirmed. Nevertheless, IOTA's strategy of consistently pursuing the unwieldy topic of industry standards remains sensible. After all, decisions are made here that have consequences in the medium and long term and can open doors for IOTA.
---
Best place to buy Bitcoin and IOTA: