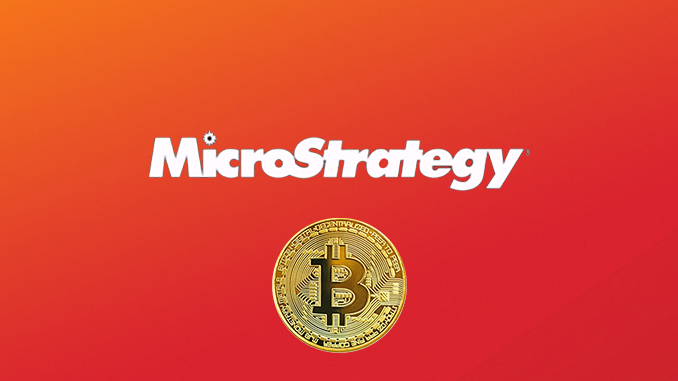 The US company MicroStrategy continues its highly regarded Bitcoin strategy and launches another convertible bond. In the process, at least 900 million US dollars are to be collected for the purchase of BTC.
MicroStrategy was actually known as a software manufacturer since its founding in 1989, making it a Nasdaq-listed company. But things have changed at MicroStrategy since August 2020, when CEO and founder Michael Saylor began shifting MicroStrategy's cash reserves into Bitcoin. This turned MicroStrategy into a trendsetter celebrated by the stock market, and the share price has since risen from just over 100 US dollars to over 900 US dollars in the meantime. Against this background, it makes sense that MicroStrategy is now continuing to bet on Bitcoin and is once again issuing a convertible bond. At least 900 million US dollars for the purchase of BTC are to be raised in the process, according to a mandatory announcement, and if there is sufficient demand, the sum can be increased by a further 150 million US dollars.
The Bitcoin story from MicroStrategy
It's worth taking a look at MicroStrategy's individual steps in BTC:
August 2020: purchase of 21,454 BTC for $250 million. Bitcoin stands at around 11,000 US dollars and MicroStrategy's stock at around 130 US dollars.
September 2020: Another US$175 million cash reserves are invested in 16,796 Bitcoin. BTC is quoted at just over 10,000 US dollars and MicroStrategy stock at around 170 US dollars.
December 2020: Another 50 million US dollars of cash reserves are invested in the purchase of Bitcoin.
The company raises $650 million to purchase BTC with an initial convertible bond offering. Bitcoin's price is just under $20,000 and MicroStrategy's stock is trading near $300.
MicroStrategy now owns just over 71,000 Bitcoin, for which just over US$1.1 billion was spent and which is now worth more than US$3.5 billion at current market prices. In parallel, MicroStrategy is perceived as a Bitcoin company on the stock exchange, CEO Saylor promotes BTC and even on MicroStrategy's homepage Bitcoin has been given its own prominently placed menu item.
The new convertible bond matures on February 15, 2027, showing that MicroStrategy is taking a long-term view of its major Bitcoin project. With carmaker Tesla, another publicly traded U.S. company has so far invested in Bitcoin on a similar scale.
Bottom line: new all-time highs for Bitcoin – how far does it go?
Also supported by the news from MicroStrategy, Bitcoin climbed to a new all-time high above $52,000 overnight. If other large companies follow the examples of MicroStrategy and Tesla, up to 100,000 US dollars per BTC should still be within the realm of possibility in 2021, say analysts. The bull market seems to be very robust, despite all skeptics and prophets of doom.
---
Best place to buy Bitcoin: