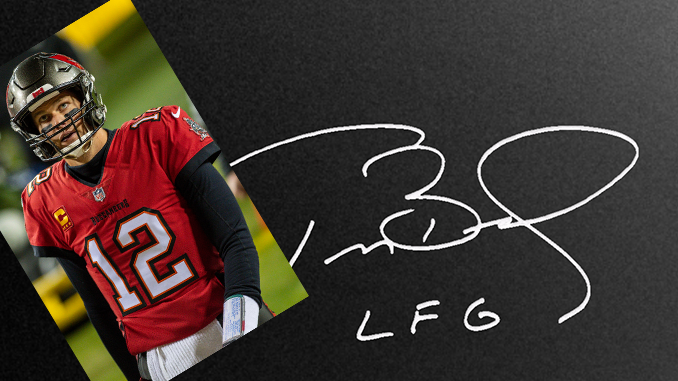 Non-fungible tokens (NFTs) are a hot topic in the crypto industry – but an interesting start-up in this field called Autograph is led by US sports star Tom Brady.
In American football, Tom Brady is a living legend; with seven Super Bowl victories, the 43-year-old quarterback has set standards. Tom Brady has not been known for any special interest in Bitcoin and Co. so far, but nevertheless he now wants to use his popularity for a trendy topic in the crypto industry. Tom Brady has taken a liking to NFTs (non-fungible tokens), as reported by the US broadcaster CNN. Such unique tokens, which are managed and documented in the blockchain, are currently shaking up the art market, for example; the digital artist Beetle was able to enjoy more than 60 million US dollars at an auction for one of his NFTs. Brady now plans to launch a platform called Autograph this spring, which will be all about NFTs.
NFT platform Autograph – What is the concept?
For Autograph, Brady has gathered illustrious names for management and consultants. Among others, the founding family of MySpace, high-ranking managers from Spotify and Apple as well as representatives from sports and entertainment are gathered there. Their goal is to use Brady as a door opener to get celebrities to create and market their own NFTs through Autograph. Autograph already has a website here, but no content yet.
What can be gleaned from the sparse information about Autograph: Brady and his comrades-in-arms probably have in mind creating NFTs with collectible value. These could be original songs, sketches by fashion designers, rare video clips from the world of sports, or even digital art. There are likely to be auctions for this, and meetings with the stars and online promotions have also been fanned. But always at the top level of celebrities, of which Brady is one in the U.S., "iconic brands" and the "biggest names" are mentioned in Autograph's self-description.
These then automatically draw their willing-to-pay followings to Autograph, or so the thinking goes. Tom Brady and his advisors must have carefully studied the immense success of NFTs in the US basketball league NBA, where digital collectible pictures are traded daily for a lot of money under "NBA Top Shots".
Conclusion: Next coup with NFTs?
So far, buyers who are willing to pay millions for an NFT are almost exclusively from the crypto industry. With Tom Brady as a drawing card, Autograph could tap into new customer groups. Let's wait and see which stars join Autograph and what they then offer in concrete terms. Also exciting: Does Autograph want to develop its own technological basis or does it take FLOW, for example, as an already existing ecosystem?
---
Open a Binance Account here and save 10% on fees for a lifetime.