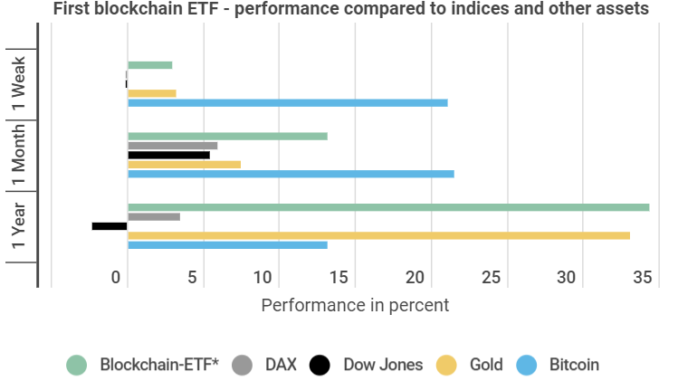 The quotation of Invesco Elwood Global Blochchain ETFs climbed 34.34% in its annual review. Over the same period, important indices such as the Dow Jones fell in value as a result of the corona pandemic. As a new infographic from Block-Builders.de shows, the aforementioned block-chain ETF outstripped even gold, traditionally the crisis currency par excellence. As the infographic shows, blockchain adoption is advancing rapidly in several ways.
Last year, worldwide spending on blockchain projects amounted to US$2.7 billion. Two years ago it was just $0.95 billion. If one accepts the predictions of the "idc" analysts, then we are still a long way from the end of the line: according to them, global spending on such projects will rise to $14.4 billion by 2023. This would mean an increase of 1,416% compared to 2017.
Meanwhile data from a recent "Deloitte" survey indicate that blockchain adoption is progressing rapidly. For example, 39% of entrepreneurs, managers and employees acquainted with the subject launched blockchain projects this year. Last year this figure was just 23%. The survey only included industry practitioners with a deep understanding of blockchain technology.
Blockchain Potential
In addition, some 64% of experts surveyed stated that they expected block chain technology to offer greater security than conventional IT solutions.
Despite the advances in adoption, the increased spending on blockchain projects and the positive prognosis from the experts, the topic of blockchain seems to be receiving little attention from the general public. This is at least suggested by data from search engine operator Google. The Google Trend Score, indicating relative search volume, currently ranks at 7 – the lowest value in over 3 years. A score of 100 represents the highest possible relative search volume.
All in all, it is clear that the experts seem to believe in the great potential of the technology, a fact that is also appreciated by investors. It is also striking that the performance of the blockchain ETF runs contrary to Bitcoin's price development.