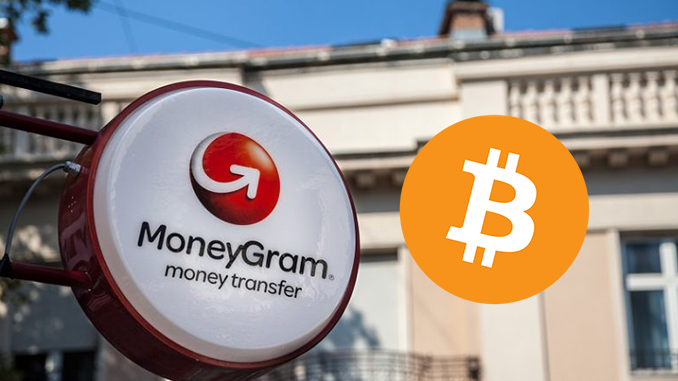 The financial services provider MoneyGram will allow the purchase and sale of Bitcoin (BTC) in its U.S. branches in cooperation with the crypto company Coinme. Until March, MoneyGram was still closely associated with Ripple (XRP).
Anyone who wants to exchange Bitcoin (BTC) for cash quickly and easily in the USA will soon be able to do so at the more than 12,000 branches of the financial services provider MoneyGram. This service is being implemented in cooperation with Coinme, according to a press release. Coinme itself is already represented with a good 6,000 buying and selling points for Bitcoin in supermarkets in the USA. MoneyGram's new partnership is also attracting attention because it had entered into a strategic partnership with Ripple (XRP) in the summer of 2019, but that partnership was dissolved in March 2021 because of the dispute between Ripple and the U.S. Securities and Exchange Commission (SEC).
Bitcoin trading from MoneyGram to be offered internationally as well
Bitcoin at MoneyGram is scheduled to launch before the end of June. U.S. customers will then have to be prepared for 4 percent fees plus a base amount of between $2.75 and $4.75. In exchange, however, they will be able to withdraw or use cash. Coinme offers an app that shows current rates, includes a bitcoin wallet and provides directions to the nearest physical branch.
Moneygram says it plans to expand its Bitcoin offering to select international markets in the second half of 2021. In addition, the company is thinking about adding other cryptocurrencies to its portfolio. For example, the company is looking at stablecoins for markets in Africa, South America and Asia, where national currencies face sharp price fluctuations, said Alex Holmes , MoneyGram's CEO.
Holmes also said in a TV appearance that the cooperation with Ripple (XRP) was a good pilot project and first sparked interest in blockchains and cryptocurrencies in his company. MoneyGram had received tens of millions in XRP from Ripple on a quarterly basis as an incentive to use XRP as a bridge currency in its cross-border services. However, MoneyGram has since distanced itself from Ripple, apparently fearing being dragged into the legal battle with the SEC.
Conclusion: Bitcoin at MoneyGram – customer-friendly offer.
Demand for opportunities to exchange Bitcoin on-site and in local currencies, even by cash, is present worldwide. This is evidenced by BTC vending machines, for example. However, by far not all of these vending machines also allow withdrawals of Bitcoin funds. Here, MoneyGram and Coinme occupy a business that should be profitable due to the comparatively high fees. The outlook for international expansion and altcoins also sounds attractive for the listed MoneyGram. Ripple, on the other hand, is likely to be disappointed when it has to watch its former partner reorient itself.
---
Best place to buy Bitcoin and Ripple: