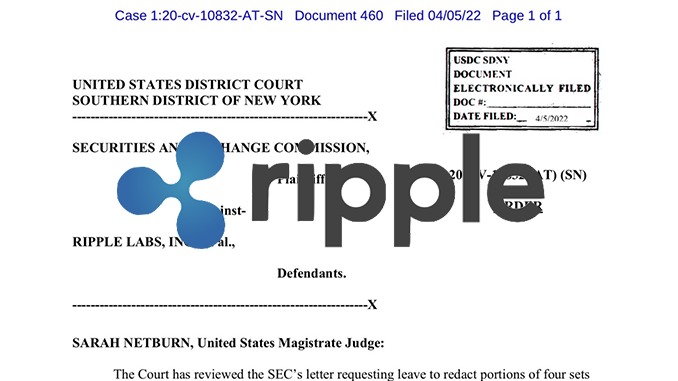 Ripple (XRP) continues to be in focus because of the ongoing lawsuit against the U.S. Securities and Exchange Commission (SEC). There is currently arguing and speculating about redactions in SEC documents. Point advantage Ripple?
At times, the process observation in Ripple (XRP) vs. SEC is reminiscent of coffee guesswork. Even experienced U.S. lawyers are not always sure what the U.S. Securities and Exchange Commission (SEC) has in mind with a maneuver or why Ripple is making a legal catch. Thus, even attorney James Filan admits in his latest status report on the proceedings not to understand in its entirety what might actually be motivation in the details at hand. Specifically, Ripple's lawyers have admitted to redactions in documents submitted by the SEC. They did not want to question the redactions in general, but also could not assess whether contexts of meaning were distorted by the redactions, Ripple wrote.
The judge in charge then ruled, Filan said via Twitter, that she wants to see redactions intended by the SEC brought before her in confidential in-camera proceedings. As far as is known, the documents in question are internal SEC documents that Ripple has been pressing for months to release and has been successful in doing so. But now Ripple is suggesting that the redacted version of the SEC could omit references that show where opinions are exchanged and where positions are reconciled. Filan's colleague Jeremy Hogan had most recently expressed suspicion that Ripple might be in possession of juicy SEC documents. Did that perhaps refer to unredacted versions of the now disputed papers and Ripple's new admission is a trap for the SEC?
As of December 2020, the court in New York now has the indictment before it, which calls for Ripple to be fined billions of dollars for the unauthorized sale of XRP. The SEC wants to see XRP classified as "securities" (securities), Ripple resolutely contradicts. Even 15 months later, no verdict is on the horizon; in a best-case scenario, the case could enter the home stretch this summer.
Conclusion: crypto investors with a split relationship with the SEC
In the crypto industry, the bitterly fought lawsuit between the SEC and Ripple over XRP is seen as groundbreaking for how the SEC can act in the future in matters of Bitcoin and Co. The SEC, as an authority that is supposed to guarantee investor protection, wants to expand its powers in the direction of the crypto industry. But it probably did not expect fierce resistance from Ripple, and some observers think that the SEC has lost its way and is now facing a symbolic defeat in court. However, even supporters of a strong SEC are increasingly wondering how officials have lost ground argumentatively against Ripple and are seeing in parallel how XRP's price curve has been treading water for long periods of time. A more frequent opinion is therefore: Ripple and SEC should jump over their shadows and resolve the unsatisfactory situation for everyone with an out-of-court settlement.
---
Best place to buy Bitcoin and Ripple (XRP):