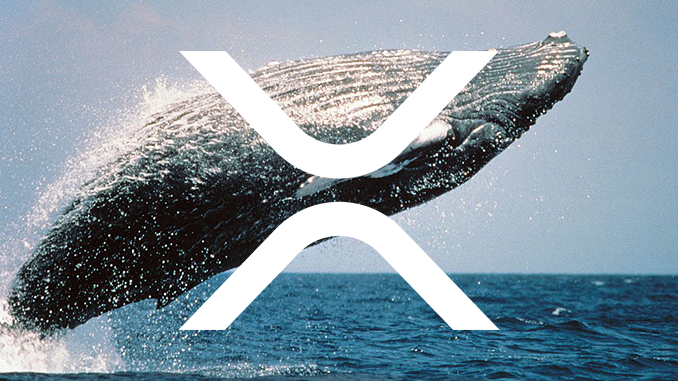 At Ripple, a large transaction of 150 million XRP is causing guesswork. Namely, an anonymous Whale has transferred this amount of XRP from the crypto exchange Binance to a private wallet.
In the crypto scene, it is common to closely monitor transactions by large investors. As in the stock markets, the behavior of so-called whales sometimes provides clues as to what trends are setting in. In the case of Ripple (XRP), the Whale Alert service has now reported such an unusually large transaction. 150 million XRP were withdrawn from crypto exchange Binance in a single transaction and are now sitting on a private wallet, blockchain data shows. At the time of the transfer, these XRP had a value of nearly $150 million; since then, Ripple's price has dropped precipitously. A direct correlation between the price curve of XRP and the actions of the anonymous Ripple Whale cannot be established, to be sure. But this transfer virtually invites speculation about what is happening with Ripple.
Normally, the rule is that transactions towards crypto exchanges represent investors preparing to part with coins and either cash them out or exchange them for other cryptocurrencies. In the current case, however, the XRP are now stored on a private wallet rather than a trading venue. Does the Whale perhaps know more about how Ripple's court case is shaping up? After all, Ripple is being sued by the U.S. Securities and Exchange Commission (SEC) over XRP, and recently it has always been clear there that a ruling is not expected soon. The ongoing uncertainty around Ripple and XRP weighs on the development. "Wait and see" would then be the motivation for the transaction and HODL the preliminary target.
It would also be conceivable that the mysterious investor is planning a private deal with XRP and does not want to do this via a crypto exchange. However, the fact that the 150 million XRP in question are almost completely further secured on the private wallet and only small amounts were moved on, albeit to crypto exchanges other than Binance, speaks against this.
Conclusion: nervous sentiment around Ripple and XRP.
XRP, despite all the legal troubles, still has a market cap of nearly $40 billion and compared to that, 150 million should not be overstated. However, the guesswork around what is behind the large transfer is a good indication of how nervous XRP investors feel. A Ripple defeat in court against the SEC could herald the end of XRP and with it worthlessness. A legal success by Ripple for XRP, on the other hand, could kick off a positive price rally.
---
Best place to buy Bitcoin and Ripple (XRP):