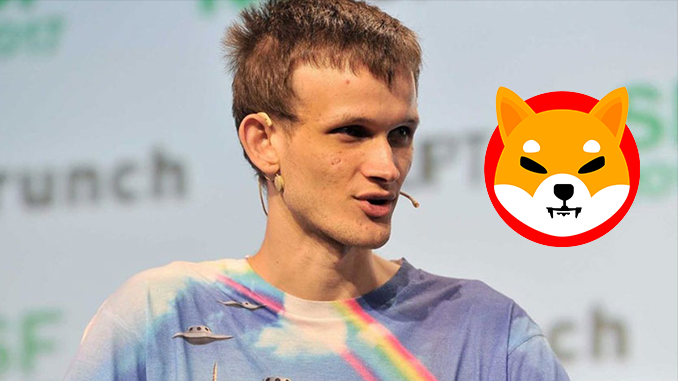 Shiba Inu (SHIB) also gained attention because 50 percent of its stock was sent to famed Ethereum founder Vitalik Buterin – now worth tens of billions.
Shiba Inu (SHIB) continues to dominate the crypto world's headlines because of its insane price rally. With this week's all-time highs, Shiba Inu has moved into the top ten most capitalized altcoins, where it is in a neck-and-neck race with rival Dogecoin (DOGE). This is reason enough to recall once again how SHIB stepped onto the stage in a big way in May 2021 and also used unusual advertising strategies.
These included transferring about 50 percent of the originally generated SHIB unasked to Vitalik Buterin, who enjoys cult status in the crypto scene as the inventor of Ethereum (ETH). Shiba Inu docks into the Ethereum ecosystem as an ERC-20 token and various ETH addresses of Vitalik Buterin are publicly known. Let's see how Vitalik reacts, the creators of Shiba Inu must have thought when they went PR with the supposed coup. In a message they asked him to destroy ("burn") the SHIB given to him.
Buterin, who is known to be clumsy, acted according to the ironclad principle of "your password, your coins" and reacted differently. In a first tranche, Buterin transferred 10 percent of his Shiba Inu to Corona Aid for India, then theoretically worth about $1 billion. This action sent SHIB's price curve down by nearly 40 percent, and the market got cold feet. And Buterin still had a good 400 trillion SHIB in his wallet by May.
After a moment's reflection, Buterin finally put an end to the crypto spectacle on his behalf. On May 16, 2021, he sent almost all of the Shiba Inu remaining with him to a dead address, which amounts to destroying or burning it. Something between 6 and 8 billion US dollars was the value of this package at that time and quite laconic with a message. He, Buterin, urged to refrain from such coin gifts to him in the future. He did not want to get into any undesirable positions of power or influence the market.
Resourceful observers have now calculated what Buterin has done in US dollars from today's perspective. And lo and behold: roughly calculated, his SHIB would now be worth four times what it was in mid-May, and thus around 32 billion US dollars. It's not that Buterin needs money – his own Ethereum must have long since cracked the billion-dollar mark in U.S. dollars.
Conclusion: Buterin went down in the history of Shiba Inu
No recent commentary on Shiba Inu is known from Buterin, who probably considers his involuntary PR management there to be over. Incidentally, in tow of SHIB, he was sent other meme coins and apparently quietly forwarded them to aid organizations or destroyed them. A look at Buterin's wallet, which was affected by Shiba Inu at the time, still shows SHIB on the trading floor for a good 200 US dollars. So Buterin is not completely away from Shiba Inu, the Dogecoin killer whose history he unintentionally helped to shape.
---
Best place to buy Bitcoin and Shiba Inu: