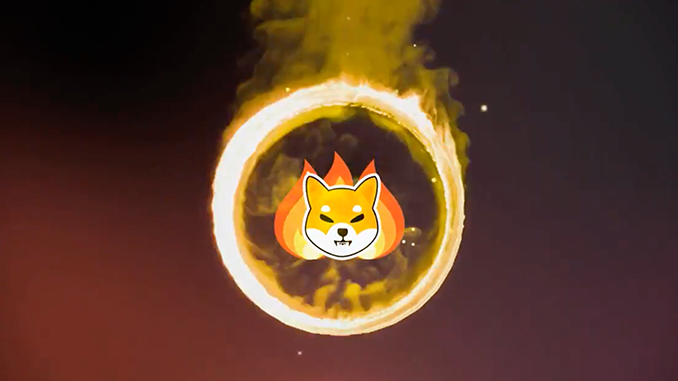 Self-proclaimed Dogecoin Killer Shiba Inu (SHIB) is known for unusual actions. Now a "Burning Portal" has been opened, where SHIB are voluntarily destroyed and there is a reward in return.
Dogecoin (DOGE) has just hit the headlines again with the takeover of Twitter by "Dogefather" Elon Musk and could temporarily record a price increase of 25 percent. There a rather unconventional action threatened with Shiba Inu (SHIB) almost to be overlooked. Shiba Inu, which sees itself as a Dogecoin killer, announced the launch of a "Burning Portal" via Twitter. Burning" in the crypto industry refers to the intentional destruction of tokens, and such a mechanism is also said to cause deflationary tendencies in Binance Token (BNB), for example.
"Burning Portal" at Shiba Inu – what's behind it?
In contrast to the automated method for burning at Binance Token, Shiba Inu relies on volunteers. In the short description of the "Burning Portal" for SHIB it says: The so-called "SHIB Army", i.e. the active community at Shiba Inu, has suggested to find a system to reduce the total stock of all SHIB. The hope is that this will increase the value of Shiba Inu.
In order to make the "Burning Portal" more attractive, besides warm words, an idea has been thought of. Whoever deposits SHIB there and has it destroyed receives burntSHIB tokens. On stocks in burntSHIB, in turn, 0.49 percent of Ryoshi's Vision (RYOSHI) sales will be distributed. The Burning Portal statement refers to this as "passive income." Ryoshi's Vision is named after the anonymous founder of Shiba Nun and, like SHIB, is designed as an ERC-20 token. CoinMarketCap lists RYOSHI around #3,000 among the most capitalized cryptocurrencies, so Ryoshi's Vision is currently an exotic.
Despite the daring construction for the "Burning Portal", the project seems to find participants. Already 12 billion SHIB are said to have been received there. However, originally 1 quadrillion Shiba Inu were generated. Of that, in a PR stunt, half went as an uncancelled gift to Vitalik Buterin, the inventor of Ethereum (ETH). Buterin then decided to destroy 90 percent of his SHIB and give away 10 percent to charity.
Conclusion: SHIB vs. DOGE – which meme coin has better chances for the future?
The duel between Dogecoin and Shiba Inu is also ridiculed by many as a duel of Meme Coins. Meme coins are cryptocurrencies that have nothing to offer in terms of content apart from a good name and a pretty logo. Shiba Inu did try to develop its own ecosystem with its own decentralized crypto exchange called Shiba Swap, among other things. However, ShibaSwap was immediately said to have security issues and now only has about $75 million in liquidity there, making this DEX virtually meaningless.
Dogecoin, on the other hand, with Tesla CEO Elon Musk and other prominent supporters, has at least managed to be accepted as a means of payment by some – mostly North American – entities. Currently, the "DOGE army" is hoping that their favorite coin will soon become the currency on Twitter. If we take market capitalization as the most important yardstick, Dogecoin, with just under 19 billion U.S. dollars, is currently well ahead of Shiba Inu with just under 13 billion U.S. dollars. But this dog race is likely to see another round, just like the creativity of Shiba Inu and Dogecoin.
---
Best place to buy Bitcoin, SHIBA and DOGE: