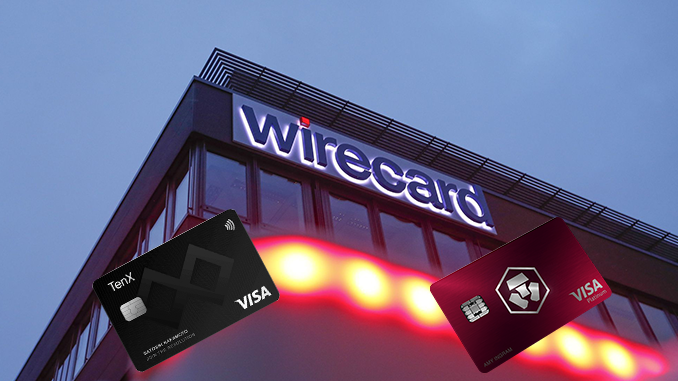 Crypto credit cards such as TenX or from Crypto.com have only become possible in the background thanks to Wirecard as the issuer. But the payment service provider is in the crossfire because of possible balance sheet manipulation.
When Wirecard sent out an urgent report on its own behalf yesterday morning, Thursday morning, the price of Wirecard shares plunged 60 percent into the red within minutes. The reason for the panic among investors was that Wirecard had to postpone publication of its annual balance sheet for 2019 for the third time. This is because the auditors from Ernst & Young have considerable doubts about the 1.9 billion euros that Wirecard has on its books, but for which there is apparently no evidence. Crypto credit cards may also be affected by the turbulence, as Wirecard is acting as issuer in the background.
Wirecard before the collapse? What will happen to crypto credit cards?
The situation at Wirecard is dramatic. The 1.9 billion in question correspond to about one quarter of the balance sheet total. If no properly audited annual balance sheet for 2019 can be published this Friday (June 19), it is possible that loans with a total sum of around 2 billion will become due immediately, Wirecard writes. It is feared that even contractual partners have been deceived. The DAX company has been suspected of having unclean balance sheets since early 2019, when the first reports from Singapore made the rounds.
Piquant for the crypto industry: It is precisely there in Singapore that TenX is also based, that with a "real" crypto credit card, it is pursuing an ambitious business goal. In reality, Wirecard will issue this card as a Visa partner. Recently, news of personal bloodletting caused some unrest at TenX. Another crypto company that relies on Wirecard's banking license is Crypto.com with a Visa credit card. The CEO of Crypto.com, Kris Marszalek, made it clear on Twitter that customers need not worry because their funds are stored at a bank other than Wirecard. TenX has not yet commented on the current developments.
To further clarify, Wirecard does not have custody of any crypto held by https://t.co/pFc4PzqqHR. So to sum up: this is a clickbaity thread, with a clickbaity headline, done with zero research or understanding how things work. Do better, Larry @lawmaster (2/2)

— Kris | Crypto.com (@Kris_HK) June 18, 2020
Day of Truth for former stock market launch Wirecard
In good times, Wirecard was worth 24 billion euros to the stock exchange; at yesterday's close of trading it was worth less than 5 billion euros. It is more than questionable that a balance sheet for 2019 with a certificate from Ernst & Young can be presented today. How the lenders will then react is still open. Wirecard has probably lost the confidence of investors for a long time. For when the Financial Times first reported on the possible balance sheet manipulation by a whistleblower, Wirecard even sued the respected financial newspaper.
For the time being it seems that you as a user of a crypto credit card from indirectly Wirecard do not need to become restless. This is because this business usually involves third party banks and insurance companies are also taking action. In the medium term, however, the crypto industry could do without Wirecard as an important cooperation partner.
---
Best place to buy Bitcoin: