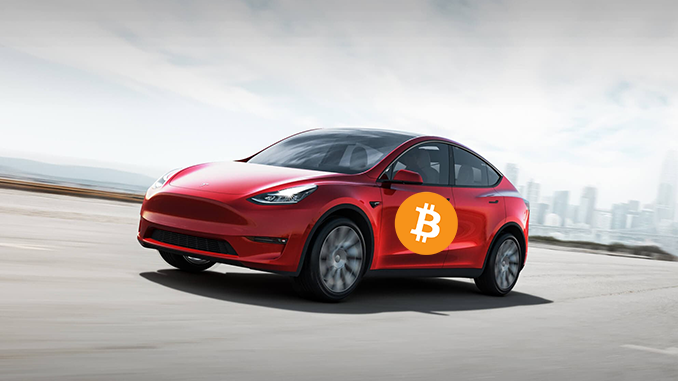 In its latest quarterly report to the U.S. Securities and Exchange Commission (SEC), carmaker Tesla mentions that it might want to accept Bitcoin (BTC) as a means of payment again in the future.
Bitcoin (BTC) and Tesla – there was something? However: in February, the e-car maker shifted $1.5 billion of its cash reserves into Bitcoin, the news immediately catapulted BTC to a new all-time high of $47,000 at the time. Electrifying the crypto scene at the time was the parallel announcement that Tesla would accept Bitcoin from customers as payment. However, just three months later Tesla changed its mind and banned Bitcoin as a means of payment again, justifying this with the environmentally harmful impact of Bitcoin mining. This rethinking of Tesla as an innovative showcase company caused the price of BTC to collapse temporarily.
Thus, people will now pay very close attention to whether Tesla is preparing the next change of course. Because in Tesla's mandatory report for Q3 2021 to the U.S. Securities and Exchange Commission (SEC), it says, referring to its practice earlier in 2021, that it is possible that it will again accept digital currencies for products and services in the future.
Tesla, Bitcoin, Elon Musk and the crypto scene – a love-hate relationship
Optimists now believe Tesla CEO Elon Musk will put aside his environmental concerns about Bitcoin. Because Musk had always held out the prospect of a return to BTC on the condition that much more energy from sustainable sources would be used in Bitcoin mining. Due to the BTC mining ban in China from June, the global capacities for Bitcoin mining are shifting noticeably, also towards the USA and there with renewable energy sources. And after all, Tesla writes in its quarterly report that it believes in cryptocurrencies in the long term both as an investment and a replacement for fiat.
However, Tesla is keeping its future plans under wraps as to exactly which cryptocurrencies it has in mind. Taking stock is retrospectively how its own BTC investment has paid off so far with around $1 billion plus in the books. Musk, in turn, is known as a proponent of Dogecoin (DOGE), where he most recently helped push the relaunch of the Dogecoin Foundation. Musk also holds Ethereum (ETH) privately, by his own admission, in addition to BTC and DOGE.
So it doesn't seem made up that Tesla really means Bitcoin when it comes to possibly accepted cryptocurrencies. ETH is expected to become much greener in 2022 through Ethereum 2.0. Dogecoin is more than an eccentric hobby for Musk. And Bitcoin now remains the leading currency in the crypto market, which is becoming more and more established in classic financial markets. In the crypto scene, Musk has lost a lot of sympathy because his sometimes erratic word messages on Twitter are considered to influence the share price.
Conclusion: Tesla sparks new bitcoin fantasies
For the moment, the price curve of Bitcoin is not influenced by Tesla's plans, which remain vague. But this can change abruptly if official considerations turn into tangible reality. Tesla as a symbol for advanced cars and Bitcoin as the world's digital currency – many believe that they simply belong together.
---
Best place to buy Bitcoin: