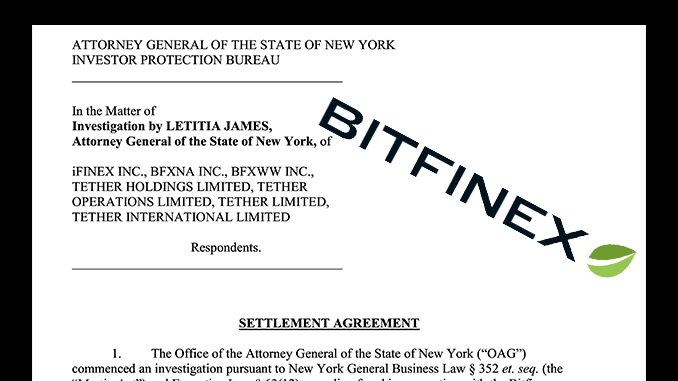 In New York, Tether and Bitfinex have been under pressure since 2019 due to a lawsuit filed by the state attorney general's office. Now the matter is resolved by a fine of 18.5 million US dollars. Details make one wonder.
The two closely linked crypto companies Tether and Bitfinex have reason to rejoice: for a comparatively inexpensive 18.5 million US dollars, they can resolve legal disputes in the US state of New York. There, the state attorney general's office had become active in 2019 when first Bitfinex reported the loss of 850 million US dollars in customer funds and then Tether helped out with an emergency loan. As Tether and Bitfinex now emphasize in an identical-word press release, the out-of-court settlement does not mean an admission of guilt. Around case there was talk of price manipulation of Bitcoin (BTC) and Tether (USDT) not covered by reserves.
The defendants now even thanked investigators for "cooperation and professionalism" and have agreed to stop doing business in New York. To prove this, they will submit quarterly reports to prosecutors there. Voluntarily, Tether also commits to ensure, also on a quarterly basis, that the stablecoin USDT is covered by sufficient reserves in a publicly transparent manner. From the company's point of view, this solves a legal problem that threatened its credibility and, temporarily, its ability to do business.
New York Attorney General's Office believes Tether and Bitfinex only conditionally
However, those who read the press release of the prosecutor's office get the impression that inconsistencies remain. Because the plaintiff's side is further sure that Tether partly did not keep its promise for months to keep for each USDT also one US dollar as reserve in accounts. They also talk about Tether and Bitfinex cooperating with "entities from the blackest corners of the financial world" and concealing risks for their customers. The finding that Tether and Bitfinex operated illegally in New York sounds harmless in this regard.
The prosecutor's office also points out that it has currently opened a case against the start-up Coinseed. In general, they will act with all severity and consistency against crypto companies that do business in New York in violation of the law. This also includes trading in such cryptocurrencies, which may be classified as securities "securities".
Conclusion: Bitfinex and Tether get off lightly in New York
The bottom line is that Bitfinex and Tether should be able to focus on their actual business again for now. The multi-million fine and the ban for New York seem bearable, but remain a warning sign for others. Investors, on the other hand, will be relieved that the companies were not broken up and that Tether will have to provide more evidence of USDT's coverage in the future. After all, it leaves a stale taste that Tether, the main stablecoin, was at times insufficiently covered to perform its function. Bitfinex and Tether had probably built a house of cards in parts, which could have suddenly collapsed.
---
Best place to buy Bitcoin: