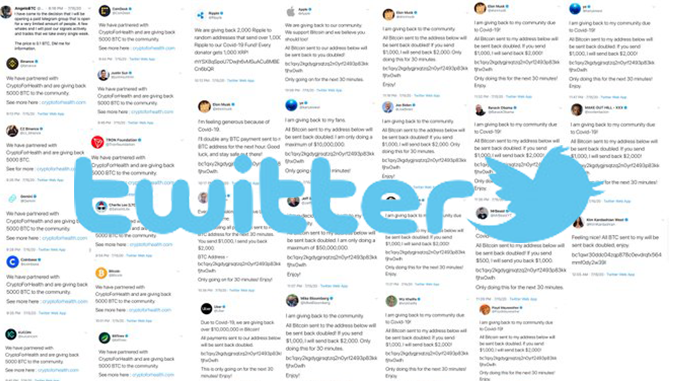 Twitter experienced the probably biggest hack in its history on Wednesday and piquantly enough it was used for a fraudulent lure in Bitcoin. According to initial findings, the hackers were able to capture BTC worth more than 100,000 US dollars.
Anyone who read the short messages of celebrities such as Barack Obama, Bill Gates or Elon Musk on Twitter yesterday was astonished: they all tweeted in unison with a big promise. All Bitcoin (BTC) that would be sent to a BTC address mentioned in the tweet would be sent back doubled. The action is only valid for 30 minutes and in order to give something back to the community, Kanye West, Kim Kardashian and many other official accounts suddenly advertised with millions of followers. CNN reports that hundreds of gullible people fell for the trick and actually transferred Bitcoin, worth at least $100,000 in total. In addition to the financial damage, the incident raises piquant questions and is now also of concern to the FBI.
Black hour for Twitter and Bitcoin is involved
Twitter believes that the coordinated attack on celebrity accounts was made possible by accessing internal tools that are only available to its own employees. In the emergency, Twitter blocked the possibility of tweets for verified accounts for a good three hours. CNN paints a horror scenario: One should only imagine what could happen if Twitter accounts of US President Donald Trump or other heads of state were taken over by hackers. They would hardly be taken off a promise in Bitcoin. But such people of contemporary history also use Twitter to announce political decisions. So what if, thinking further ahead, Trump suddenly tweets about a war of aggression or another government is spreading news that is causing panic?
In a first statement, the FBI spoke of a "temporary crypto-currency scam" and warned the public not to send crypto or fiat in connection with the incident. The BTCs that the hackers received were apparently already distributed to other Bitcoin addresses. Whether the victims of the scam can hope for compensation in any form remains open for the time being. Twitter meanwhile reports that it has restricted access to internal tools.
Conclusion: Do not trust dubious gifts
The cryptoscene knows scams of all kinds, some have fallen for dubious promises under the magic word Airdrop. To believe that celebrities would just double entries in BTC, you have to be pretty naive. But just to be on the safe side, remember: Your Private Keys are private and you never give them away carelessly. And if someone promises you money in crypto without you having to do anything for it, the alarm sirens should go off anyway. Meanwhile, Twitter has to cope with image damage and tighten its security measures. Because, as I said, if the hack had been operated with a different intention, completely different scenarios could have developed.
---
Best place to buy Bitcoin: