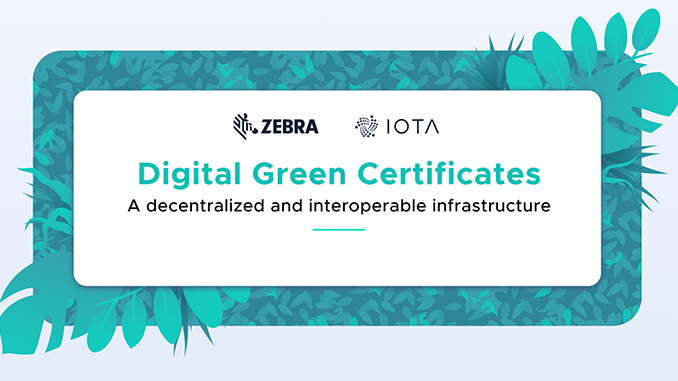 The EU wants to organize the issuance of a "green passport" by June, so that more freedom of travel is possible again in the Corona pandemic. IOTA sees itself as the optimal technological solution for this project.
Since the outbreak of the Corona Pandemic in early 2020, the IOTA Foundation has already contributed several times to approaches to make public life freer and safer again. The prototype of a Corona warning app based on IOTA fell into oblivion, but in digital test certificates, IOTA has proven efficiency in tests at German airports. Now, in a blog post, the IOTA Foundation lays out how Tanglenet could serve as the technological underpinning of the EU-wide planned "Green Passport." With the "Green Passport", the EU wants to at least make it easier for citizens to travel from the beginning of June. It is to be recognized as digital proof that documents vaccinations against Corona, a survived illness and also current test results in a tamper-proof and machine-readable manner.
In its proposal for a "green passport," the IOTA Foundation points out that its concept meets all EU requirements. These include, in particular, the right to digital self-determination and options for the "Green Passport" to be implemented not only as a smartphone app, but also to be able to carry it with you as a printed proof or plastic card. IOTA points to its experience in digital identities and the possibility of linking this system directly to the European Federation Gateway Services (EFGS). EFGS is where data from EU countries converge to be made available in all member states.
Corona defense – how IOTA envisions the "green passport".
The IOTA Foundation describes in its proposal that the EU decides who is allowed to issue a "Green Passport", fill it with information and read it out. This would be, for example, vaccination and testing centers, as well as border officials and airlines. Only at the moment of a data match or update of information, these personal details concerning Corona will be matched with the identity of the bearer of a "Green Passport". In principle, the "Green Passport" will be used as an app for smartphones, but it will also be possible to use it as a plastic card with a chip or as a printed document. This is important because an estimated 20 percent of EU citizens do not own a smartphone, and if the "Green Passport" is used internationally, this percentage will rise sharply once again. In whatever version, the "Green Passport" will contain a QR code so that it can be read quickly at borders, for example. Then, via IOTA's Tanglenet, the validity and integrity of the "Green Passport" is checked against the anonymously recorded data. IOTA has posted an earlier demo of what such proof might feel like as an app online here.
One detail, however, is surprising: To make the work easier for issuers and verifiers of the "green passport," IOTA wants to bring the U.S. company Zebra on board. IOTA has been cooperating with Zebra since the summer of 2020 and Zebra has already presented its practical ideas for the Corona vaccination certificate in a blog post. But on the other hand, it is true in the EU that one prefers to rely on partners from the Union rather than from the USA for IT projects.
Conclusion: Does the IOTA push for a "green passport" have a realistic chance?
The EU's decision-making channels are convoluted and often heavily influenced by the interests of individual member states. In the matter of the "green passport", time is pressing for Brussels, because it is foreseeable that without a uniform solution, individual countries would press ahead with individual solutions. As far as is known, the EU Commission has already signed a preliminary agreement for the "green passport" with SAP and T-Systems (subsidiary of Deutsche Telekom). So, while the IOTA "Green Passport" proposal is appealing, among other things, because of the fee-free nature of actions on Tanglenet, the chances of implementation are vanishingly small without decisive lobbying from the German government. But at least the IOTA Foundation now has a seemingly mature concept for digital certificates in compliance with EU regulations up its sleeve. This can certainly be proposed again in modified form at a later date if the EU also wants to introduce other documents in digital versions.
---
Best place to buy Bitcoin and IOTA: