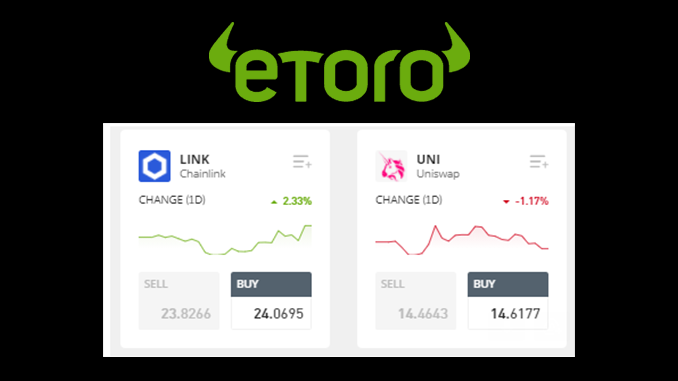 The trading platform eToro is now expanding its portfolio with Chainlink (LINK) and Uniswap (UNI). This means that among the 18 cryptocurrencies listed on eToro, there are now also two DeFi heavyweights.
Especially in Germany, eToro is popular as a modern trading platform for cryptocurrencies, stocks and other investment opportunities. With the listing of Chainlink (LINK) and Uniswap (UNI), eToro is expanding its range of crypto offerings with two altcoins, each of which has established itself in its own way in the upper league of cryptocurrencies, according to a press release. This means that 18 different cryptocurrencies are now easily tradable at eToro.
Background on Chainlink (LINK)
Chainlink (LINK) has increased in price by more than 1,000 percent in the last twelve months, mainly due to the booming DeFi market. There, Chainlink has become indispensable as a data service that feeds current prices of cryptocurrencies in blockchain format into smart contracts. In this context, LINK is the means of payment for the services, and Deutsche Telekom, among others, is also active in the technical implementation of the network and is very satisfied with its involvement. The founders of Chainlink are already working on new uses for their offerings and expect the market for DeFi to continue growing rapidly. Thus, many independent experts also see good opportunities for future share price gains for LINK.
Background on Uniswap (UNI)
Uniswap is the pioneer among decentralized crypto exchanges (DEX) and launched UNI, its own token, in September 2020. UNI first cracked the $10 mark at the end of January 2021 and has since worked its way up to levels around $30. Uniswap has announced a major upgrade to version 3 for May 5. To be fair, eToro also mentions the competition to Uniswap, which has overtaken Uniswap in terms of turnover on individual trading days, especially in the form of PancakeSwap. Uniswap is so far locked into the Ethereum (ETH) DeFi ecosystem, while PancakeSwap is anchored in Binance Smart Chan with Binance Coin (BNB) as its native cryptocurrency.
eToro with big plans for 2021
eToro is expected to relist more cryptocurrencies this year, with competitors such as Binance or Coinbase featuring significantly more altcoins. But in its selection, eToro has so far largely avoided altcoins with low market capitalization, which protects customers from excessive risk to a certain extent.
Meanwhile, experts are also paying attention to eToro's own exchange plans. In mid-March, eToro officially announced that it was planning an IPO. It is aiming for a valuation of at least $10 billion. Coinbase achieved a valuation of a good 80 billion US dollars at its stock market debut last week, but has not yet been able to confirm this in the long term. Nevertheless, the IPO of providers such as eToro or Coinbase seems to be a good investment opportunity to indirectly profit from the crypto market. eToro points to its fast-growing customer base, which has exceeded 20 million, and of course to its overall broader offering than Coinbase.
Conclusion: eToro makes investing in DeFi easy
If you are interested in investing in DeFi without directly using the mechanisms there yourself, Chainlink (LINK) and Uniswap (UNI) are two promising options. eToro offers you the advantages of trading in euros and legally, while relying on a German-language and easy-to-use platform. Another advantage of eToro: With investment options also in stocks, ETFs and more as well as so-called copy trading, the trading place is well suited for diversified strategies. Therefore, from the perspective of US analysts, the comparison of eToro with Coinbase is also lame. They rather see Robinhood as a natural competitor of eToro. Robinhood is also aiming for an IPO in 2021 and sees a valuation of 40 billion US dollars as possible. But that's still pie in the sky – LINK and UNI at eToro are already a reality.
---
Best place to buy Bitcoin: