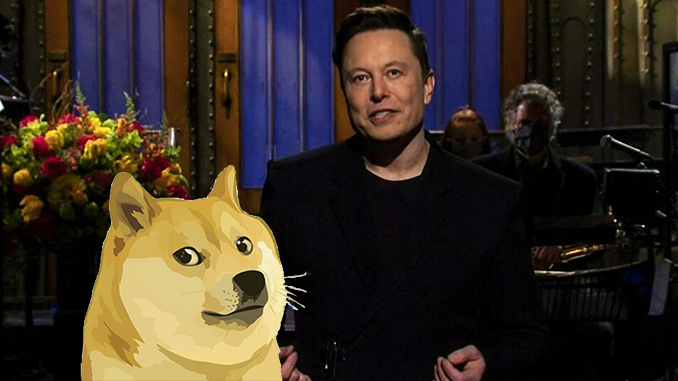 Dogecoin (DOGE) continues to live up to its reputation as an altcoin prone to speculation. Tesla CEO Elon Musk sent Dogecoin into double-digit negative territory with jokes on live TV. Meanwhile, DOGE is catching itself again.
The TV show "Saturday Night Live" is cult beyond the USA and this Saturday it should also be a must for investors in Dogecoin (DOGE). Because Tesla CEO Elon Musk had announced himself as a guest star on "Saturday Night Live", and Musk is a self-appointed "Dogefather" in his second job, something like a superfan of DOGE. So it was clear: Musk would also make Dogecoin a topic in front of an audience of millions on live TV. Some had hoped that DOGE would then tackle the magic mark of 1 US dollar. But things turned out differently: even while Musk was still joking on TV, the price of Dogecoin fell to 0.49 US dollars, starting from 0.69 US dollars.
In the meantime, however, Dogecoin's price corrected again on Monday morning to a good US$0.54, and Musk is already beating the advertising drum again via Twitter. His space company SpaceX will send a Doge-1 named satellite towards the moon next year and thus bring a cryptocurrency into space for the first time, Musk promises. What's more, the mission will be paid for in DOGE. Does this mean a resurgence for Dogecoin?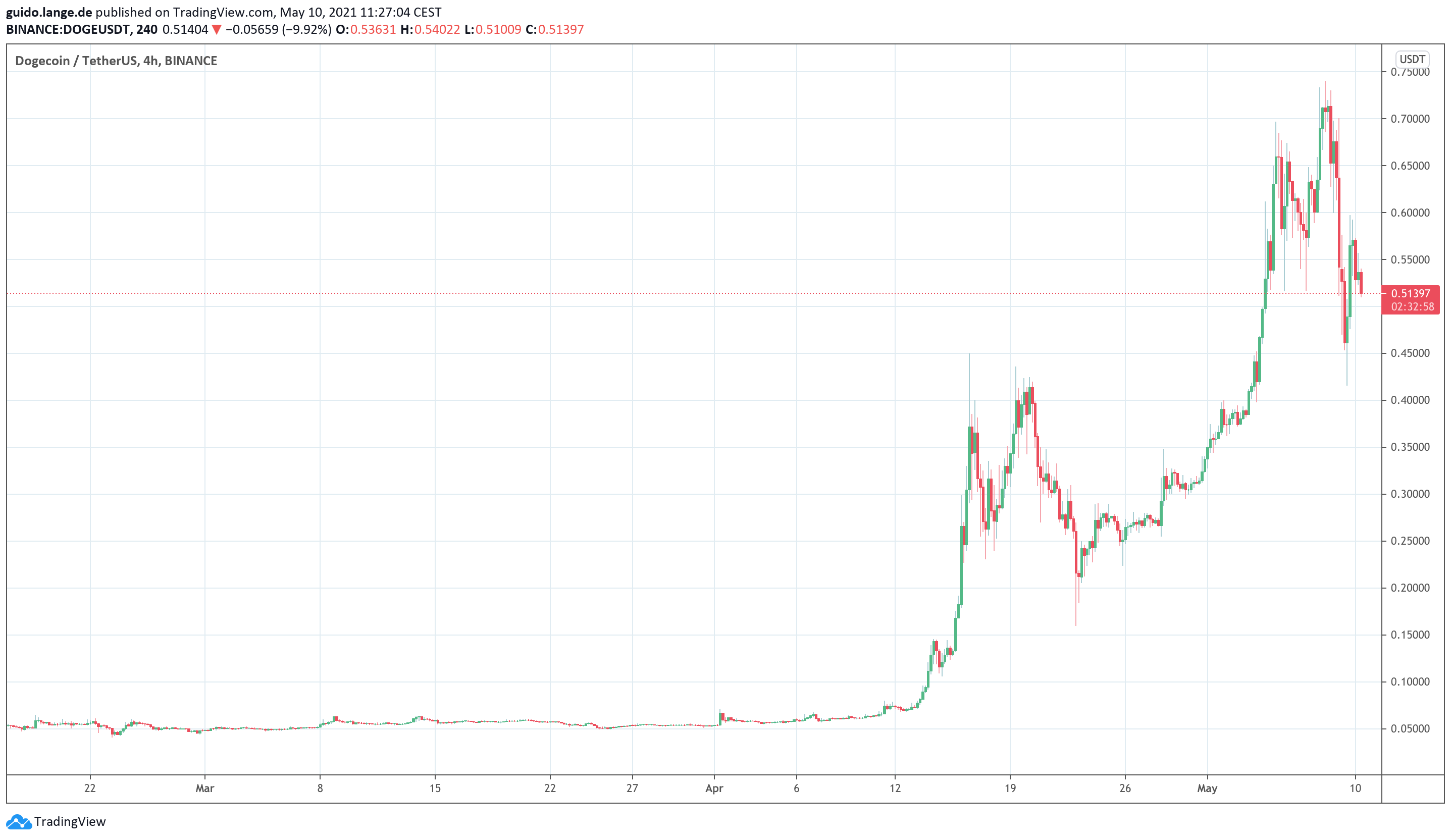 With Dogecoin, fun quickly turns to expensive seriousness
We remind: just last week, DOGE had advanced to number four among the most capitalized cryptocurrencies and the hype has long since taken on a life of its own. While Musk does sometimes sound cautionary tales ("don't invest everything in Dogecoin") about DOGE, he basically uses his notoriety in a pro-Dogecoin way. Other celebrities such as Snoop Dog have joined the DOGE club in a high-profile way. Mentions of Dogecoin on social media have reached record levels, according to data service LunarCrush.
This momentum seems to be wiping out many concerns about Dogecoin. DOGE is already basically an inflationary cryptocurrency due to a lack of a cap, which is another reason why it has not yet established itself as a significant payment method. In addition, only about 20 wallets hold more than 50 percent of all DOGE, so the so-called crypto whales have a fundamentally unhealthy majority with Dogecoin. As an investor, you should not forget that if you want to explore profit opportunities with DOGE.
Bottom line: dogecoin and the power of the crowd.
The recent chain of influences on DOGE's price curve are prime examples of how millions of followers on Musk and Co. can send a cryptocurrency up and down just as much as online communities (WallStreetBets). This may not be palatable to traditionalists, but psychology has always played a weighty role on classic stock markets as well. So, soberly, we must continue to warn against Dogecoin as a medium- and long-term investment opportunity. In DOGE, the fundamental concept does not provide rational arguments as in Bitcoin (BTC) or Ethereum (ETH). But there are currently around 70 billion US dollars invested in Dogecoin, and with this foundation, considerable profits can be realized through risk-tolerant strategies in the event of significant price fluctuations of DOGE – with considerable risks of loss on the other side of the coin.
---
Best place to buy Bitcoin and Dogecoin: