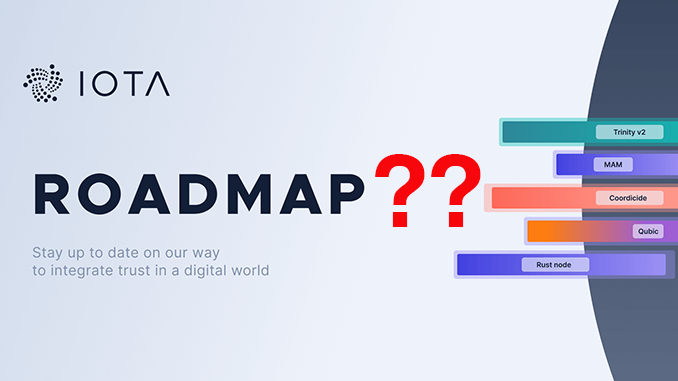 The IOTA foundation says goodbye to the practice of naming target dates for important steps in the technological development. This also applies to the major project Coordicide aka IOTA 2.0.
At the end of April, IOTA 1.5 became a reality through Chrysalis and the step, which is basically overdue in terms of technology, has caused a lot of recognition. Now, however, a detail from the inner life and self-image of the IOTA Foundation makes us stop: Because as of now, IOTA is done with a concrete roadmap that names time horizons for upcoming important development goals. Charlie Varley, one of the chief developers of IOTA, announced this via Twitter. Varley writes that this is intended to take pressure off the IOTA Foundation and also to counter speculation about IOTA. But experts bristle for at least three reasons:
Clearly defined dates for upcoming big news like the launch of a product or existential advancements are common and good practice in the crypto industry as in other industries. Because investors as well as customers rightly want to be extensively informed, that also applies to IOTA.
Who deals with IOTA more closely, waits for IOTA 2.0 (Coordicide). This fundamental goal calls the IOTA donation for at least four years and it means contentwise the abolishment of the central coordinator in the Tanglenet. Only then would IOTA become a decentralized network, and decentralization is the crypto industry's commandment, which creates trust.
IOTA is notorious for not meeting schedules, Chrysalis had to be postponed many times. For IOTA 2.0, the founders had only promised a launch in 2021 in the fall of 2020. The second testnet for Coordicde called Nectar has been months in the making.
The new roadmap at IOTA can be found here. Varley says the individual departments at the IOTA Foundation are now a "well-oiled machine" and schedules are definitely still being set internally. In the comments of the IOTA community, approval prevails and the tenor is that care should be placed above speed in the further development of IOTA.
Conclusion: IOTA with questionable roadmap maneuvering
To make one thing clear: Whether it's Ethereum (ETH) or Cardano (ADA), Polkadot (DOT) or Filecoin (FIL), correcting ambitious timelines is commonplace in the crypto industry. More often, this has probably also saved from technological failures. In this respect, the IOTA Foundation is not a special case in its past, but has often communicated schedule changes to the outside world in an unfortunate or incomplete manner.
Doing without public target data altogether, however, is a very strange approach, especially with regard to IOTA 2.0. After all, without decentralization through coordicide, IOTA's DeFi ambitions and associated smart contracts make little sense in terms of content. And speculations and discussions about the future viability of IOTA are only likely to flare up again. Not to mention topics such as insider trading. Transparency in a project as large as IOTA (market capitalization of a good 6 billion US dollars) and a foundation recognized as a non-profit also includes timetables, even if they are perceived as inconvenient by the people involved.
The new IOTA CEO Dominic Schiener took office at the end of 2020 with the promise of more transparency. Investors and team should now remind him of this urgently. This is not about vituperative criticism of IOTA, but a fundamental question of trust.
---
Best place to buy Bitcoin and IOTA: