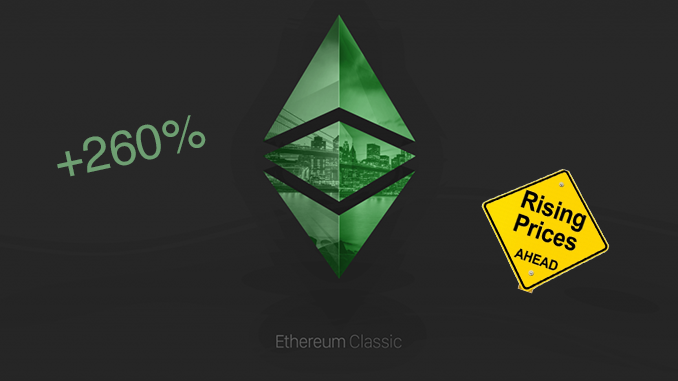 Ethereum Classic (ETC) was long considered a write-off, innovative cryptocurrencies had left ETC behind in market capitalization. Why is Ethereum Classic now making a spectacular comeback in price?
Dogecoin (DOGE) made it in this history-making crypto week, how on the crypto market seemingly out of nowhere rapidly billion-dollar values are created. Then in the last 24 hours Dogecoin remained at record levels and instead Ethereum Classic (ETC) pushed itself to the forefront when looking at the charts. The price of Ethereum Classic rose by a whopping 50 percent overnight, and over the course of the week it even increased by about 400 percent. Are there any parallels between Dogecoin and ETC?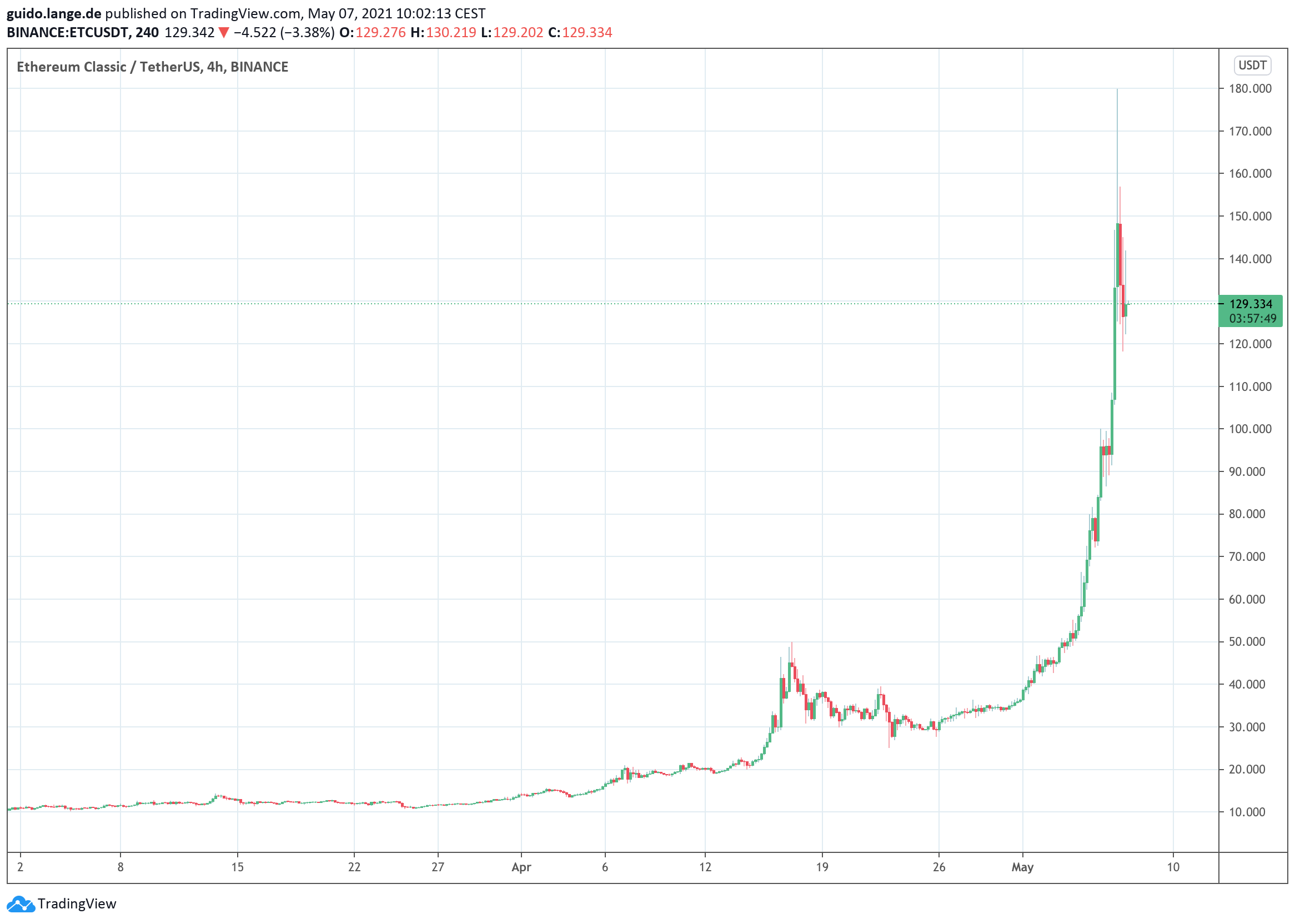 Why Ethereum Classic is currently attracting investors
Ethereum Classic has also rarely played a role in our news coverage lately. As a cryptocurrency created by a hard fork in Ethereum (ETH) in 2016, ETC seemed to be falling behind technologically, and suspicious moments of 51 percent attacks shook confidence in Ethereum Classic. But ETC was never completely out of the picture. Whether it's Coinbase, Robinhood or eToro – the user-friendly and wide-reaching trading platforms all have Ethereum Classic in their program. This creates a prerequisite for fast and massive price movements with high liquidity.
At the end of April, ETC then managed to set its historic all-time high of just under 40 US dollars. This cleared the way for price journeys into unknown worlds. Tesla CEO Elon Musk calls this "to the Moon" for Dogecoin. However, there is a fundamental difference between DOGE and ETC. The maximum number of all coins on Ethereum Classic is limited, and hundreds of outlets exist online that accept ETC as payment. Dogecoin cannot show such plus points. Moreover, it should not be underestimated that newcomers to crypto trading quickly confuse Ethereum (ETH) and ETC due to the easily confused names.
Another detail: In the case of its big brother Ethereum, all eyes are on a reform proposal for transaction fees, but its acceptance has not yet been determined. Ethereum Classic, however, as the name suggests, does not want to change tried-and-true code. Some analysts therefore believe that miners with their expensive computer farms could switch from ETH to ETC in the summer, because with pure Ethereum their business would no longer be worthwhile after a reorganization of the transaction fees there.
Bottom line: is the price jump in Ethereum Classic on shaky ground?
You notice: the pro-ETC argument for medium- and long-term sustainability is based on quite a few assumptions and largely leaves technological expertise out of the equation. But like Dogecoin or GameStop's stock markets: Easy-to-use trading platforms and the power of the crowd are causing billion-dollar values to shift in a coordinated fashion with increasing frequency over a very short period of time. These movements follow quick profit opportunities. One gets the impression that we are experiencing just such a momentum in Ethereum Classic, which is fueled by speculation rather than crypto industry expertise. But that doesn't change the nearly $50 billion in ETCs that are currently changing hands on crypto exchanges in just 24 hours, generating fabulous profits for many market participants.
---
Best place to buy Bitcoin and ETC: