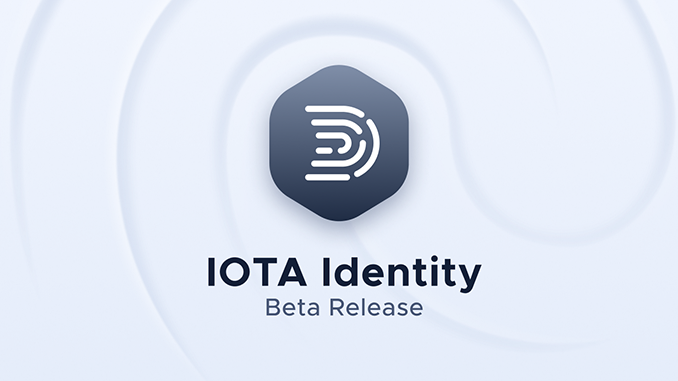 The IOTA Foundation reports weighty progress in its Identity project, which aims to occupy the topic of digital identities for humans and machines.
For years now, IOTA has been working on the topic of digital identities, and since the end of 2019, the project has been listed as IOTA Identity. After the launch of IOTA 1.5 Chrysalis just under a month ago, it was necessary to adapt IOTA Identity to the new Tanglenet. According to the blog post of the IOTA Foundation, this has now been achieved with the beta version of Identity. This should also bring IOTA Identity 1.0 within reach, they write. However, the IOTA Foundation has not been publishing more precise schedules as of late.
Background to IOTA Identity
As can be seen from current discussions about Corona apps and green passports, digital identities are a tricky business. On the one hand, privacy is to be preserved. On the other hand, digitally stored personal details must be absolutely reliable, for example vaccination certificates. IOTA Identity aims to resolve this conflict through automated checks. One example from the IOTA Foundation: An exam signed by a university is to be considered valid – if the same document only bears the mother's confirmation, it will be classified as untrustworthy. In the event of queries about digital stamps, direct contact is to be established via an easy-to-use interface.
In general, the IOTA Foundation sees easy-to-understand programs as an important challenge in its solution for digital identities. In the meantime, it has been possible to clearly separate the machine room in the background from the user interface in the foreground. In addition, IOTA Identity should now meet the conditions for international standards from organizations such as W3C and Decentralized Identity Foundation (DIF).
IOTA further points to an often underestimated field of application for digital identities, namely those of machines. In smart cities, for example, authorities would so far only rely on their own sensors to measure traffic for better planning of traffic and would not include the data collected by vehicles themselves. This is where IOTA Identity could play to strengths as a neutral standard. Similarly, for other machines on the Internet of Things (IoT), where IOTA Identity could certify manufacturers, maintenance, software, and more, he said.
Conclusion: IOTA Identity sounds good – but has some catching up to do
In the wake of digital identities and Corona, the IOTA Foundation has pitched its approaches several times, but has not come out beyond a pilot project. This summer, EU citizens will witness en masse how the smartphone with official apps becomes a tool for digital identities. IT giants like SAP and Telekom will probably be used as service providers here. A crypto project like Cardano (ADA) has just announced it is providing digital identities to more than 5 million people in Ethiopia on behalf of the government. Meanwhile, IOTA has good ideas, but only a beta version of Identity in the program. It is admitted that IOTA Identity is not very well known yet, but hopes on the part of the foundation to change this quickly. Only the future will show whether this will be successful.
---
Best place to buy Bitcoin and IOTA: