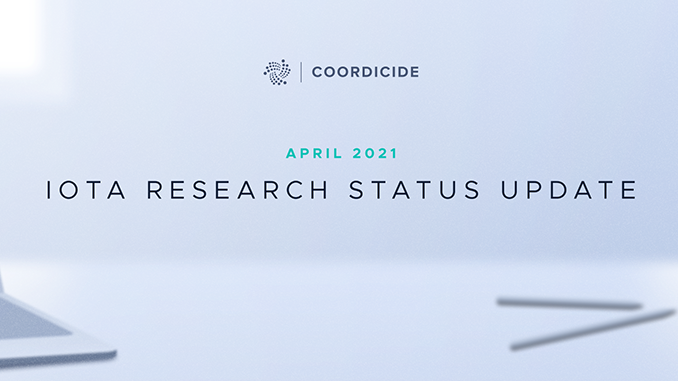 In its latest progress report, the IOTA Foundation looks at the ongoing preparations for Coordicide. The focus is on technological details for IOTA 2.0.
April 28 is the set date for IOTA 1.5 to come into effect, when Chrysalis is to be released on Tanglenet. Parallel to it however already further concentrated on the large goal IOTA 2.0 aka Coordicide one works, reports the IOTA donation in its progress report April. According to this, the second test net called Nectar is to go live for IOTA 2.0 in "a few weeks". This will be the first time a decentralized IOTA with new functions will be available in a test environment, it says.
Testnet Nectar as a prelude to the farewell of the coordinator at IOTA
IOTA 2.0 is to be launched before the end of 2021 and will then do away with the unloved coordinator, which until now has controlled the Tanglenet centrally and thus undermines the decentralized principle of blockchains. A first testnet for IOTA 2.0, Pollen, has been in operation since summer 2020. With Nectar, a public program will then be created in which participants can search for errors and suggest improvements. Rewards will also be offered for doing so. According to the IOTA Foundation, the Tanglenet with Coordicide has been stable under Pollen so far. There is room for improvement in the interaction of network points (nodes), where synchronizations may still run bumpily.
IOTA is pleased that the documentation of IOTA 2.0 is making great progress. This is important because IOTA wants to contribute its future technological basis to the Object Management Group (OMG), which defines industry standards. However, for the OMG to discuss and decide on the IOTA proposals, concrete documents must be available. In line with the OMG's schedule for 2021, the IOTA Foundation had targeted this spring for this and in this respect sees itself on a good path.
Conclusion: IOTA with price gains – positive expectations for technological renewal
The cryptocurrency IOTA has experienced a largely continuous positive price curve since the beginning of February and was able to work its way up from price levels around 0.50 US dollars to now almost 2 US dollars. It appears that the market is thus rewarding the technological advances in IOTA, which are expected to express themselves Chrysalis on April 28 and Coordicide later in the year. IOTA's still valid all-time high of just over 4 U.S. dollars still dates back to January 2018 and the regions of around 2 U.S. dollars now reached had last been marked by IOTA in May 2018. Meanwhile, IOTA investors should also mark April 21, 2021 in their calendars: That's when the migration process for IOTA tokens begins with the new wallet Firefly ahead of the launch of IOTA 1.5.
---
Best place to buy Bitcoin and IOTA: