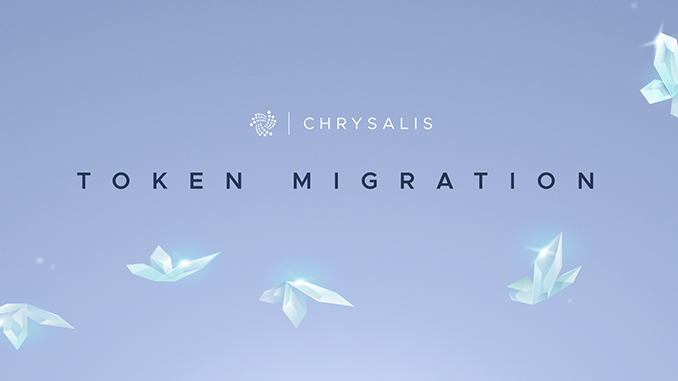 At IOTA, the upgrade to Chrysalis got underway yesterday (Wednesday) as planned. There is important news for investors regarding the associated transfer of funds to IOTA 1.5.
IOTA 1.5 is already partly a reality due to the closing of Chrysalis, which started yesterday. But investors may rightly wonder why, after years of preparation, this technologically important advance is not as convenient and smooth as promised. Because the devil is in the details: Anyone who still wants to act with IOTA in the actual Tanglenet from April 28, even for trading purposes, must have their balances migrated beforehand. In a daily blog post, the IOTA Foundation refers to the new official wallet Firefly as the only recommended way to safely migrate. But what about in other cases?
Migrating IOTA – pitfalls lurking here
The automatic migration of IOTA tokens in Ledger's hardware wallets, which was actually already announced for now, has been postponed to "soon". Therefore, if you hold IOTA on a Ledger Nano S or Ledger Nano X, you should move it to the account at a crypto exchange instead or to a non-Ledger generated seed of your own. However, the IOTA Foundation recommends waiting for the – indefinite – update at Ledger.
But as a reminder, as of April 28, the old Tanglenet 1.0 will only be available on a conditional basis, and IOTA to be traded will basically have to be emigrated to Chrysalis. Here also lies the problem for those who manage their IOTA via the previous official wallet Trinity in the mobile version. They have to manually push the migration to Firefly, which is only available in a desktop version so far.
The situation is similarly unsatisfactory for IOTA stored at crypto exchanges. Here, too, preparations have not progressed as far as often suggested by the IOTA Foundation. In the current list, it is only Bitpanda and Bitfinex that will fully support Chrysalis as of April 28, giving you unrestricted options as well.
Binance plans to implement Chrysalis – without an exact date – after the April 28 launch, according to the IOTA Foundation. OKEx and Huobi are working to be ready for IOTA 1.5 in May. Upbit is also working on implementing Chrysalis, but did not mention a target date. According to the IOTA Foundation, Bittrex and Liquid have been informed about the necessary adjustments to Chrysalis, but no feedback has been received from them so far. eToro is completely missing from the list provided by IOTA on the status of major crypto exchanges in relation to Chrysalis.
Conclusion: IOTA gets tangled up in practical implementation of Chrysalis.
With the belatedly provided official information about the migration at IOTA, one hardly wants to imagine how professional users from the industry with self-developed wallets must feel. Wordily, IOTA now also explains that very small balances ("dust") will be lost during the migration or cannot be carried over to IOTA 1.5 at all. The wallet Firefly as a problem solver is obviously reaching its limits here. But a look at the archives makes us even more suspicious: A good year ago, IOTA was at a standstill for weeks because a security hole was exploited by attackers in the then official wallet Trinity.
According to IOTA, a good 3 percent of all IOTA tokens have already been transferred to Chrysalis since yesterday. It is difficult to assess whether the procedure is then often too complicated after all or whether trust is lacking lum necessary dynamics into the process. In any case, the impression suggests itself that the IOTA Foundation could have prepared the basic and monetary migration of assets better with the considerable time reserves in the preparation.
---
Best place to buy Bitcoin and IOTA: