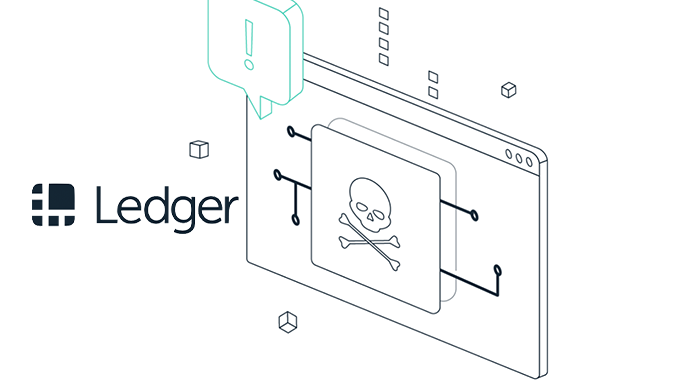 Ledger reports that manipulated nano hardware wallets are currently being sent out in a targeted manner. The criminals apparently got addresses for their activities from the data leak at Ledger from the summer of 2020.
If you receive a free package allegedly sent by Ledger in these days and weeks, you are most likely to be a victim of a scam. Ledger reports via its official web presence a new scam with which criminals try to get hold of other people's credit in Bitcoin and Co. For this purpose, the unknown creators have built USB sticks that can hardly be distinguished from the real hardware wallets Ledger Nano S on the outside. These fake hardware wallets come shrink-wrapped in a plastic bag like new to selected addresses. An accompanying letter explains that the recipient needs to replace his Ledger hardware wallet in order to secure funds. If someone follows these instructions, however, they are actually lured into a fake app where they are supposed to enter their recovery seed. By doing so, the victim then loses control over their Ledger crypto hardware wallets.
According to the photos, this new scam is very professionally put on. According to Ledger, there were also similar scam attempts in May, but there real Ledger hardware wallets had been sent manipulated. In both methods, the perpetrators apparently make use of Ledger's pool of customer addresses, which was lost in a hack in the summer of 2020. This data has been circulating in relevantly known hacker forums since December 2020 at the latest. Almost 300,000 Ledger customer addresses are in circulation.
Ledger Nano S and Ledger Nano X – beware of phishing
Ledger had initially tried to downplay the dimension of the data leak in summer 2020. In the meantime, however, it has become clear that criminals are creatively dealing with the material in many different ways. However, the target is always phishing, i.e. tapping the 24 words of the recovery phrase. Phishing, which affects Ledger, is also attempted via email and social media. Ledger again emphasizes that no one from official support would ever ask for this master keyword. Further important: Download the Ledger Live app only from Ledger itself.
Conclusion: Data leak continues to scratch Ledger's nimbus
The ever new ideas criminals use to search for victims have gained valuable address material through the Ledger data leak. This has been evident for almost a year now and is certainly not conducive to Ledger's image. Ledger is rightly considered the market leader and pioneer in the production of hardware wallets, and the Ledger Nano S and Ledger Nano X also convinced in our test. But please remember: If you decide to buy a Ledger Nano S or Ledger Nano X, then only order them directly from the manufacturer itself. Manipulated hardware wallets, also from the competitor Trezor, have often been distributed through external channels. And of course, the recovery phrase never belongs in the hands of others, but remains only with you.
---
Best place to buy Bitcoin: