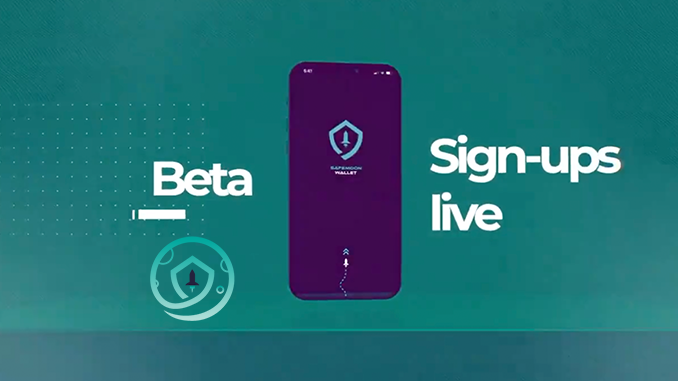 SafeMoon advertises that it collects a kind of tax on transactions and then distributes it to HODLers. A new wallet is designed to refine the system and is now going out to testers in beta.
All the big hype around SafeMoon seemed to have died down already. In April, SafeMoon had made headlines with price gains of 6,000 percent just over a month after its launch. Now, however, the hashtag #SafeMoon is trending again and the reason for this is probably this announcement on Twitter:
BETA SIGN-UPS TO ACCESS THE #SAFEMOONWALLET ARE OPEN! SIGN UP HERE: https://t.co/OSZY0v3aaJ pic.twitter.com/aF5fCrkMl9

— SafeMoon (@safemoon) June 15, 2021
So SafeMoon is getting its own official wallet and it is currently being distributed in a limited beta version. It is easy to explain why the SafeMoon wallet is so important and attracts so much interest. Because the highlight of SafeMoon is supposed to be that 10 percent "taxes" are levied on every transaction and half of this is in turn distributed to all those who do not touch their coins and declare HODL as a tactic. The other half of the revenue from the high mandatory fees on transactions in SafeMoon goes into a liquidity pool with Binance Coin (BNB). This system is at least supposed to guarantee price stability in SafeMoon and reward those who see their investment in SafeMoon as a medium or long-term affair.
In practice, however, it has so far turned out to be a problem to distribute the promised bonuses to HODLers. At the crypto exchange BitMart, for example, the additional SafeMoon are only paid out once a month and not daily as actually intended. With the SafeMoon Wallet, the procedure is supposed to change and happen in an automated timely manner. However, not much is known about the SafeMoon Wallet other than the announcement. In order to apply as a beta tester, a form has to be filled out, which also contains the agreement to a confidentiality clause. So now SafeMoon fans are puzzling whether the new wallet will deliver what it promises.
Conclusion: SafeMoon remains a speculative investment
Many in the crypto scene see typical signs of a pyramid scheme in SafeMoon, where newcomers can actually only lose money. This is justified by the bonus system with the transaction fees. Comparisons with the dubious EthereumMax (EMAX) are also drawn. In any case, it remains to be said that SafeMoon does not yet have a purpose and the roadmap speaks vaguely of projects in Africa in the 4th quarter. But who knows: Dogecoin was also laughed at by experts and has nevertheless made the leap into the top 10 of the most capitalized cryptocurrencies, DOGE is now listed on all major crypto exchanges. Some people at SafeMoon may well be hoping for such a scenario.
---
Open a Binance Account here and save 10% on trading fees. You can find a Binance tutorial here.