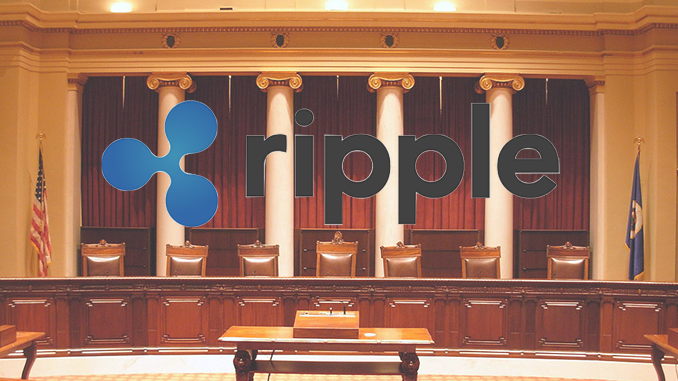 Ripple is under increasing legal pressure in the USA because of its crypto-currency XRP: In addition to a class action lawsuit that has already been started, there is now another plaintiff demanding damages. In essence, Ripple is accused of having sold XRP with false information and without authorization.
Ripple (XRP) has a hard time trying to attract attention with positive news. Although there is a good-sounding quarterly report for the start of the crypto year 2020 and also reports on new partners who are using XRP as a bridge currency for international money transfers. But on the other hand, investors and the professional public are experiencing how XRP could become the Achilles' heel for Ripple. Since February 2020, a class action lawsuit in the USA has been putting the finger on the wound: Is XRP not actually a security token and therefore sold to investors without approval? Now there is another plaintiff, as crypto expert Stephen Palley revealed on Twitter.
In what is getting to be old hat, yet another lawsuit against Ripple and Mr. Garlinghouse saying that XRP is an unregistered security, created out of thin air, and serves no real purpose except to make a couple of people really rich. pic.twitter.com/4g79ZUA1oD

— Palley (@stephendpalley) May 4, 2020
Why Ripple could have made itself vulnerable to attack by XRP
When Ripple held financing rounds and advertised from 2013 onwards, its own crypto-currency XRP was always a crucial point. With the block-chain-like solution RippleNet and XRP as a bridge currency, international money transfers will be revolutionized. Instead of days, such transfers with Ripple and XRP should only take minutes or even seconds and also require much lower fees. Even though there never was a real ICO with XRP – Ripple sold billions of XRP against Fiat and other crypto currencies. Meanwhile XRP has established itself as the third most important crypto currency after market capitalization. However, XRP is currently miles away from the all-time high of 3.38 US dollars at around 0.21 US dollars and its use as a bridge currency by classic banks has exotic status.
This price development is increasingly attracting disappointed investors. They argue: Ripple has spread misleading information about XRP and should not have sold XRP at all, because it is a security token, so it is actually a security. In the latest case the plaintiff, Bitcoin Manipulation Abatement LLC based in Puerto Rico, states: Ripple has advertised XRP as a good investment, pays crypto exchanges for the listing and has promised an increase in value for XRP. Expert Stephen Palley calls the accusations "old hat", but does not question them fundamentally.
Instead, Palley finds fault with the plaintiff Bitcoin Manipulation Abatement LLC, which is represented by attorney Pavel Pogodin. Pogodin has already attracted attention with a negative decision in a lawsuit against the FTX trading platform, and Bitcoin Manipulation Abatement LLC has only been in existence since March 2019. The suspicion arises that Pogodin and Bitcoin Manipulation Abatement LLC are only interested in compensation payments and were never really among the early investors. In Germany and the EU, so-called warning lawyers have long been feared in online business, whose interest is purely financial and who seem to have little interest in the administration of justice that is actually required.
Ripple and XRP – a never ending story?
There are no comments from Ripple and CEO Brad Garlinghouse on the proceedings pending in the USA. But whoever applies the Howey Test, as it is authoritative in the USA, will probably classify XRP as a security token. This is also the opinion of the independent Crypto Rating Council, which gives XRP the grade 4.0, so very probably a security token. The SEC as the US stock exchange supervisory authority has not yet expressed its opinion on XRP, but the courts could order it.
With the considerable legal risks of fines and compensation payments because of XRP breathing down their necks, Ripple's stock market plans sound pretty daring. Because Ripple and XRP form a tandem – whether intended or not. One way out could be to seek a settlement. EOS had already managed to save itself with this tactic and Tezos (XTZ) is also striving for this solution. For the price development of XRP such a rescue would probably be positive in the medium term, even if it would be quite expensive for Ripple.
---
Best place to buy XRP: