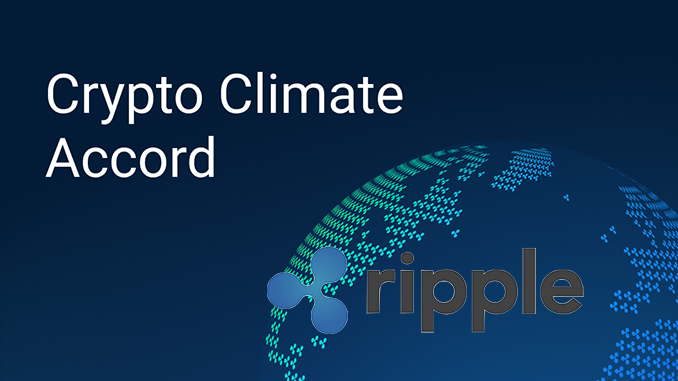 In the discussions about Bitcoin and Co., criticism of energy-hungry technology flares up again and again. Ripple (XRP) wants to score points in the public perception with climate protection as a goal.
The biggest and most urgent problem at Ripple (XRP) is undisputedly the lawsuit filed by the U.S. Securities and Exchange Commission (SEC), which is seeking damages of at least $1.3 billion. But Ripple is at the same time trying to publicly get out of the defensive and get into the media with other topics. Now they have chosen climate protection and sustainability in the crypto industry for this. Under the title "Sustainability of Cryptocurrencies: The Way Forward," Ripple describes its efforts and proposals in a blog post.
According to the post, Ripple and XRP have already partnered with Energy Web (EW) and Rocky Mountain Institute (RMI) in 2020 to promote climate-friendly blockchains. In doing so, they see themselves as pioneers, as well as pledging to reduce their carbon footprint to zero by 2030 at the latest. The next step in the effort to make Ripple and XRP "green" is now joining the Crypto Climate Accord, an alliance of crypto companies, environmental organizations and the UN. This alliance wants to achieve that blockchains switch completely to renewable energies by 2025. The first point is to develop a uniform system that transparently measures the CO2 footprint of blockchains. For Bitcoin, for example, this calculation is more complex than often claimed.
Ripple warns that with the current mass adoption of cryptocurrencies like XRP, the stage is already set for the future from a climate change perspective. There is an urgent need to create awareness of the issues and practical solutions. Crypto Climate Accord wants to commit the entire crypto industry to the use of renewable energy by 2040. Accompanying measures include backing for environmental projects or, for example, indulgence payments for the use of fossil energy sources.
Conclusion: Ripple with important topic, but uncertainty around XRP remains
Ripple is generally right that the topics of environment and climate protection can still become an obstacle for the further spread of Bitcoin and Co. The energy hunger of the proof-of-work protocol and the miners operating on it cannot be ignored. Possible seals of approval such as "green Bitcoin" are similar to voluntary commitments in other industries as an approach to prove innovation.
But XRP currently has a completely different problem: There, the trust of investors has allegedly been systematically abused and Ripple is on trial as responsible for this. This makes it difficult – if not impossible – to believe Ripple is currently leading the way in climate protection.
---
Best place to buy Bitcoin and XRP: